Chakdah, Jan. 3: Two Kolkata based young women entrepreneurs setting up an export-oriented food processing and preservation unit on a 49 bigha land adjacent to NH12 in Nadia's Chakdah have been forced to suspend work due to a threat by a group miscreant for their unsatisfied extortion attempt.
The company – Delta Creation Private Limited has already compelled to shell out Rs.50000 to buy peace when they forced out its private security guards from the site of work during July.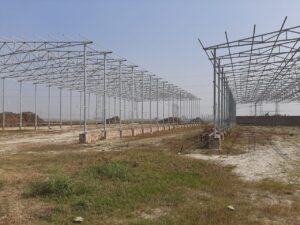 But, the miscreants made fresh demands last week; when the entrepreneurs resumed construction work that was suspended due to the Covid situation. Since they refused to oblige the demand, the miscreants allegedly have begun lifting off construction materials from the site, removing earth to sale, and even had hurled bombs unleashing panic among the laborers.
On Saturday, the miscreants again prevented work unless their demand was satisfied when the company's managing director Arun Kumar Maity arrived at the site.
Maity has already appraised chief minister Mamata Banerjee and industry minister Partha Chatterjee and Governor Jagdip Dhankar about the threat of miscreants with extortion demand seeking their intervention. At the same time, he has lodged specific complaints at the Chakdah police station. However, police are yet to begin a case on the allegation.
Last year Indrani Maity and Laboni Maity bought 49 bighas to set up the export-oriented food processing cum preservation unit with technological support with a Singapore based concern. The project was aimed to procure vegetables from local farmers in bulk quantity for export. "We are all set to implement a high-end technology that can preserve vegetables without any chemical for about 360 days. This area in Nadia has huge vegetable cultivation and thus has huge potential for the food processing industry. We have already tied up with about a few hundred farmers for the purpose. The project would also provide employment opportunities to around 1500 unskilled workers who would be used in sorting and cleaning of vegetables", said the MD of the company Arun Kumar Maity.
However, unfortunately, since the beginning of the construction work the project facing repeated threats from miscreants. The company has already
erected two shades whereas a major part of the work remains incomplete.
"We tried to buy peace by paying them Rs. 50000. But, their demand appears to be unending and increasing every day. Since we refused to oblige they have indulged in the theft of construction materials and even removing earth from the site where we have undertaken the leveling works", said the MD.
"It is not possible for us to pay them every day. The miscreants have unleashed panic among our workers who stay at the site and are being threatened every day", said Laboni Maity, one of the Directors of the company.
State Micro, Small & Medium Enterprises minister and local MLA Ratna Ghosh, however, ruled out any suspension of work. "A contention developed between the company and the local villagers about filling up of a canal which used to help them to drain out water. There is around 100 bigha of land around the project land. During monsoon, their land is inundated for which the canal is used to drain out the water, which was filled up by the company. The villagers are not against the industry."
District Magistrate Nadia Partha Ghosh said, "I have heard about the incident and instructed the police to initiate necessary action so that the work could resume"