Ranaghat, Feb. 8: A British luxury cruise that has been quarantined at Yokohama port in Japan after 63 of its passengers were detected carrying coronavirus has a crew member from Nadia's Ranaghat.
While Tapas Das, one of the 1100 crew of Princess Diamond has been counting days to return home in India, being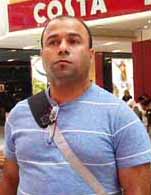 stranded in a hotel, his mother Santirani Devi anxiously waiting at home. On Friday, Santirani had managed to make contact with her son Tapas who does not know when he could return home. 
"He told me that so far 63 passengers of his ship have been detected carrying coronavirus. They have been isolated for treatment. My son said that he is all right and shifted to a hotel in Yokohama city by the Japanese authorities", said Santirani, a resident of the Madanmohon colony in Ranaghat. Animesh Ghosh, a neighbor of Das said, "I talked to Tapas in detail and he said that he was sailing from Florida to Yokohama where the Japanese authorities guarantied the ship suspecting corona attack and it found to be true. There are about 150 Indians like him who work in the ship as crew, he told me".
Diamond Princess is a luxury British cruise which has 2670 passengers and 1100 crew members when it docked at Yokohama. The ship has been quarantined by the Japanese authorities till February 19, as per a communication issued by Princess Cruises.
"The Japanese Ministry of Health has confirmed this is the last batch to be tested and the quarantine end date will be February 19, unless there are any other unforeseen developments. The Japanese government is also providing our ship and team members additional manpower support", the communication states.
The cruise authority has also identified the Nationality of some of its passengers. In the communication, the Princes Cruises authorities stated, "Princess Cruises can confirm the nationalities of the 41 people who were tested positive for Coronavirus are from Argentina (one); Australia (five); Canada (five), Japan (21); United Kingdom (one) and United States (eight)".
Sources said the cruise authority in realizing the outbreak of the deadly coronavirus, went for quarantines and performed testings and screenings.
The deadly coronavirus, which was first detected in Wuhan province of  China, has spread across the world has so far claimed 725 lives across the globe with around 35000 confirmed attacks. The common symptoms of the deadly virus are infection include fever, cough, shortness of breath and breathing difficulties.