Taherpur, Sept. 17: Police have started a case against a retired cop in Nadia's Badkulla and his young son allegedly for maiming a female street dog by hacking her with garden shears as they claimed that they punished the animal because it injured one of their hens. 
In a gory act of cruelty the two accused, identified as Bimal Biswas and his son had slashed the face of the dog with the shears damaging one of its eyes and critically injured both of its thump pads of the two front legs apart from slashing him randomly. The gory incident occurred on last Friday in Suravisthan Ashrampara area of Badkulla town. 
Members of local "Sarbashree Club" rescued the dog first and informed the members of Krishnagar based social organization "Prayas" who rushed to Badkulla town and brought the animal to Krishnagar for medication. At present the dog has been kept under care of a private veterinary doctor, who is a member of the organization.
The organization members later on Saturday have lodged a complaint at Taherpur police station against the father and son accusing them of cruelty on dog and of criminal intimidation. Police immediately started a case against the father son duo charging them for mischief by killing or maiming animal (section 428 of IPC), criminal intimidation (Section 506 of IPC) and under relevant sections of Prevention of Cruelty on Animal Act. The section 428 invites maximum punishment with imprisonment for a term of five years with fine.
Police, however, yet to arrest Biswas and his son. It will conduct a medical examination of the dog on Monday. A senior officer of Nadia police said, "We have started investigation. The dog will be medically examined by a veterinary doctor on Monday and further action will be taken after that".
Local sources said on Friday afternoon Biswas chased the dog, who used to roam in the Ashrampara area. He got hold of the dog and started slashing him with the shears. His son also joined soon with a bamboo pole".
"They first had slashed the dog's face over her right eye. As the dog tried to flee they slashed his thump pads making him seriously injured. The dog was not in a position to move", a local resident said. "Biswas in earlier occasion had also killed a dog and often torture his cows at home", a local resident said. The accused, however, appeared unperturbed and non repentant for his act. "I have done nothing wrong. The dog became irritative as it attacked the my hens on a number of occasions".
Prayas's President Sutanu Sarkar said, " The accused has slashed its thump pads so badly that the doctor advised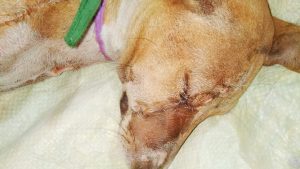 to ampute the both to save her life, else the dog would die due to infection".
The "Prayas" members before submitting police complaint met the accused for a clarification on his alleged 'inhuman" act, Biswas and son threatened them of dire consequences. 
Riya Goswami, secretary of "Prayasa", said, "There was no repentance among the father and the son. Biswas's son had even threaten us to rape if we dare to make their alleged torture an issue". "We hope that police would act sincerely and ensure stringent action  against the duo", Riya added further.