Santipur, July 16: Police have arrested two persons for stocking and selling life-threatening nylon-made kite strings from Nadia's Santipur following a spate of accidents in which over a dozen of persons were injured during the past one month while moving on roads.
A team of Santipur police laid a trap posing as customers and arrested Bhaskar Sandhukhan and Bijoy Krishna Basak, from their respective houses in the town on Friday morning. The duo was charged for negligently endangering human life. They were produced before the additional chief judicial magistrate's court in Ranaghat which ordered judicial custody for them.
Concerned over the repeated incidents of accidents due to kite strings that include injury on the throat of a four years old child Aayan Akbar, police conducted raids at several places in Santipur and adjacent areas since Thursday afternoon when over a few thousand rolls of nylon-made kite strings of different colors and quality were seized. 
Police sources said that these nylon strings arrived in the town recently through smuggling rackets and being sold illegally.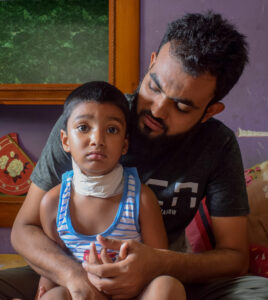 On Monday afternoon, little Aayan was riding a scooter with his father Amin when he was entangled with a nylon-made kite string and severely injured. He was rushed to Santipur state general hospital where six stitches were given on his throat, a police officer said. Aayan's father Amin, a mobile phone shop owner said, "My son was fatally injured and bleeding profusely. God saved my child…".
Prior to that a youth while riding a motorcycle was critically injured in a similar incident and since been admitted to Nadia district hospital with 12 stitches on his throat.
A police officer said, "The nylon-made kite strings are stronger, more dangerous than regular strings, and do not snap easily. The falling kite strings have become lethal since they catch unsuspecting motorcyclists across the throat and injure them severely.
"It has been found that all the victims of the kite strings were riding on two-wheelers when they suffered injuries being entangled to the kite strings", the police officer added.
Social and environmental activists Anupam Saha said, "Considering the repeated incidents of kite string injuries, many of which also occurred in the metropolis including Calcutta's Maa flyover, the centre and state government should come up to avert such injuries.
"As per the Indian Aircraft Law kite flying is an illegal practice in our country. But areas except close to airports, the administration never enforce it at all. The government should consider enforcing this law in the interest of the safety of people. At the same time, the government should also ban the selling and stocking of all types of dangerous strings like nylon made as well as strings laced with glass dust those used for kite-flying", Saha added further.