Kalyani, June 2: The CID on Thursday has begun a probe into alleged corruption and irregularities in the recruitment of workers at the Kalyani-based All India Institute of Medical Science (AIIMS) by prominent BJP MPs and MLAs as well as by its Executive Director. The probe was initiated on the basis of a complaint lodged by a Murshidabad-based job seeker at the Kalyani police station on May 20, which the CID has eventually taken up for investigation as per the direction of the state government.
The move comes at a time when the CBI has been investigating cases of corruption and irregularities in the recruitment of teachers through the School Service Commission where senior minister like Partha Chatterjee has already been questioned being accused that causing sheer embarrassment to the state government and the ruling party.
Meanwhile, all BJP leaders named in the complaint, have rubbished the allegations terming the CID move as "a deliberate ploy to avenge the CBI probes" and also "to divert the attention of people" from the SSC case for obvious reasons.
In his complaint Sariful Islam, a resident of Sahajadpur of Hariharpara, has accused BJP's Ranaghat MP Jagannath Sarkar, Bankura MP Subhash Sarkar, Chakdah MLA Bankim Ghosh, Bankura MLA Niladri Sekhar Dana, state committee member Deepa Biswas and AIIMS-Kalyani Executive Director Ramji Singh apart from others for providing "jobs to their near and dear ones denying opportunities to the deserving candidates".
Significantly enough, the complainant who claimed to have been staying in Kalyani looking for a job has not alleged his own deprival, rather he lodged the complaint reading news items concerning a purported "job scam perpetrated by leaders, public servants, ministers, MLAs associated with the BJP…"  
In his complaint, Sariful Islam has categorically accused junior education minister Subhash Sarkar, who is also a member of AIIMS-Kalyani and the Standing Committee on Health and Family Welfare, for providing jobs to his close aide and Bankura MLA Niladiri Sekhar Dana's daughter Maitri Das as "Data Entry Operator".
"Maitri Dana was handed over the job without having taken part in the recruitment test. Her BJP MLA father used his power and influence to ensure the job with the help of Subhash Sarkar", he alleged.
He also accused BJP's Chakdah MLA Bankim Ghosh of securing a similar job for his daughter-in-law. He also demanded a probe against MP Jagannath Biswas referring to a news article in which a women's wing leader of the BJP accused him of providing jobs at AIIMS Kalyani "in exchange for money".
Sariful also accused Nadia BJP leader Deepa Biswas of "illegal recruitment" being a close aide of Subhash Sarkar and AIIMS Kalyani Executive Director Ramji Singh for allowing the illegal acts.
A few months ago around 200 youths were outsourced by two agencies for works like cleaning, sweeping, housekeeping, gardening, data entry, and other services. Job seekers from adjacent areas of Kalyani, as well as from across the Nadia, North 24 Parganas, and Murshidabad on a number of occasions had petitioned before the AIIMS authorities for opportunities and also staged demonstrations for preference hearing recruitment from outside.
Sariful said, "We made to believe that local people would get job opportunities. We ran pillar to post and even took part in multiple examinations. But some elected people backstabbed us snatching our job opportunities for sake of their near and dear ones".
Taking cognizance of the complaint Kalyani police began a case for taking gratifications by corrupt and illegal means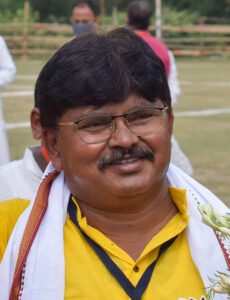 and for exercising personal influence being a public servant under relevant sections of the Prevention of Corruption Act, 1988 as well as for cheating, dishonesty, criminal breach of trust, and conspiracy under relevant sections of the IPC.
On Thursday, initiating the probe on its part, the CID lodged a fresh FIR. "We have lodged a fresh FIR and sought all case-related documents and evidence for the probe. We will examine the recruitment notices and check if any procedural violation was deliberately done out of gratification", a CID official said.
AIIMS Kalyani's Executive Director Ramji Singh was unavailable for comment. However, a senior AIIMS official said, "We got some personnel recruited through agencies who took them on a contractual basis. We have no role in such recruitment".
Refuting the allegations, BJP MP Jagannath Sarkar said, "I have done nothing wrong. I recommended some youths and do the same again if got scope. Let the CID probe…I am not afraid to face them".
BJP MLA Bankim Ghosh echoed the same. "My daughter-in-law has been engaged by an agency for 11 months contract. She has got the job like any other woman. I will be happy to submit my points before CID if they called". 
BJP MP Subhash Sarkar and Bankura MLA Niladri Sekhar Dana remained incommunicado, while his Deepa Biswas refuted the allegations. "I had no role behind such recruitment…", she said.