Krishnanagar/Kolkata, June 12: Former minister and Trinamul Congress MLA Abani Mohan Joardar (79) passed away at his Saltlake based home during the early hours of Friday morning after a prolonged illness. A retired IPS officer, Joarder won for two times from Krishnanagar North assembly constituency.
Family sources said that the deceased MLA was suffering from Kidney troubles for the past few years. He was under dialysis for a long time. The news of his demise was announced by his son Amitabha early in the morning.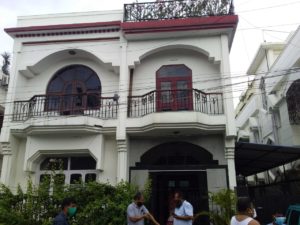 After his retirement as a Deputy Commissioner of Police, Joardar came close to Mamata Banerjee who nominated him to fight as a Trinamul candidate from Krishnanagar North assembly segment for the first time in 2011. In that year which marks the beginning of the Trinamul rule in the state, Joardar was made the minister for state correctional home services. In 2016, he was re-nominated from the Krishnanagar North seat and also won the battle. However, this time owing to his deteriorating physical condition, Joardar was made a minister without any charge. Party MLA from Krishnanagar south Ujjwal Biswas eventually replaced him as the minister of state correctional home services.
Known as a straight spoken person Joardar was hurt witnessing the internal bickering in the district leadership. He was on a number of occasions seen hitting out a section of party's top leadership in the district accusing it of nepotism and corruption exploiting their position in the party. On November 7,  2015, at a post-Durga puja programme held in Krishnanagar he accused the leadership of making the party isolated from the people by nepotism exploiting their position.
In his speech, Joardar said: "Dal ei jelai kon pathey cholchey? Doler karta ahangkar korey, nijer poder apobyabohar korey ashepasehr o nijeder lokder uporey tulchey. Evabey cholley dal ta thakbey kina apnara vebe dekhben". "Amar kono uchchasha nei, kintu satti katha bolar jannyo ami driro-protiggyo", Joardar further added claiming that he had no high ambition in politics.
Chief Minister Mamata Banerjee in a twit expressed her condolence to the bereaved family members. In her twit, she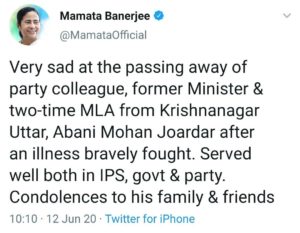 said, "Very sad at the passing away of party colleague, former Minister & two-time MLA from Krishnanagar Uttar, Abani Mohan Joardar after an illness bravely fought. Served well both in IPS, govt & party. Condolences to his family & friends".
Trinamul sources said that as per the last wish of the deceased minister, his last rites will be performed at a burning ghat in Nabadwip later in the day.