Chakdah, Dec. 5: Police on Wednesday arrested seven members of an Uttar Pradesh based cannabis supply racket wearing army uniform apparently while they were waiting to deliver the consignment in Raninagar area of Chakdah town on Tuesday night.
The cops have seized 26kg of cannabis; two sets walkie talkie often used by armed forces a bag full of army's camouflage uniforms with fake name tags along with the army caps and some identity cards apparently with fictitious names. Police have also seized a lorry with UP's registration number.
However, it preferred to remain tight-lipped about the recipients of the consignment.
The seven accused persons were identified as Vikrant Chowhan, Jawahar Singh, Dipak Kumar Singh, Manoj Kumar who are from Gaziabad district. Whereas three others identified as Dipak Singh Chowhan, Hari Om Giri and Moon Chan Yadav are residents of Subdarpur,
and Lucknow respectively.
Nadia police superintendent Rupesh Kumar said, "A case has been started against the seven persons for cheating by personation, forgery for cheating, using forged device (electronic) as genuine for cheating and under relevant sections of NDPS act. We sought police custody for them for sake of interrogation. At the same time a police team is being sent to UP in connection with the investigation".
However, he divulged no details of the consignee, even though locals claimed that sacks were unloaded from the vehicle before police arrived.
"Nothing has been ascertained so far about it. The investigation is at a preliminary stage", SP Rupesh Kumar added.
The miscreants were produced before a court in Krishnagar which ordered ten days police custody for them.
Police sources said, on Wednesday night a truck with a UP registration number and "On Army Duty" sticker was intercepted when it was parked at an isolated place near supreme paper mill in Raninagar area of Chakdah town barely around 500 meter away from Chakdah police station.
Acting on a tip of a police team raided the track and found the cannabis.
An officer of Chakdah PS said, "The miscreants claimed that they belong to Indian armed forces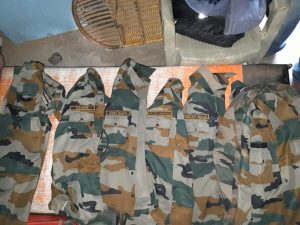 and on a duty to Calcutta, but lost road. However, a search inside the vehicle revealed sacks full of cannabis, walkie talkie, army uniforms, caps, identity card, indiscriminate documents..".
"It appears that the miscreants were travelling in disguise of army personnel  wearing camouflage uniform of Indian Army and used army duty sticker on the vehicle to avoid police checking on the way", the officer added.
Meanwhile, local residents in Jashra and Raninagar area claimed that they seen the arrived on Monday and parked in Jashra close to residence of a local Trinamul leader. The residents also claimed that they seen a number sacks were unloaded earlier to police raided the vehicle. "It seems that police shielding the recipients of the cannabis", a resident alleged.
An officer of Chakdah police said, "It could not be immediately ascertained about any such unloading of sacks from the vehicle. We would question the accused under custody for more details. We are checking if anybody is associated with the racket in the area".