Haringhata, Sept. 30: Two class 11 students of Nagarukhra High School in Nadia's Haringhata have been adjudged the first in a space model competition organized by the Ahmedabad based Space Application Centre, a major research and development centre of the Indian Space Research Organization (ISRO).
Ridam Bhowmik and Chayan Debnath, who formed a team to represent the Nadia based school in the exhibition that was held during September 27-29, was adjudged first for their creation a "rocket operated by compressed gas and water" using Isaac Newton's third law of motion.
The exhibition titled ISRO-Space Exhibition is aimed to share and familiarize the activities and explore imaginative mind among students through models and displays.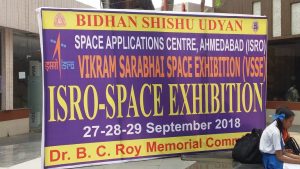 Head master of the school Sushitava Bhattacharjee said, "It is a great achievement being a school located in the remote rural area like Nagarukhra where students are mostly first general learners who largely belong to weaker financial background. It is a matter of pride for the entire area that the two students and their guiding teachers achieved such a feat".
Hare School of Calcutta was adjudged the second in the exhibition. The prizes include a citation, a memento, a cash award of Rupees 3000 and a tour to ISRO's Vikram Sarabhai Space Exhibition Centre in Ahmedabad.
The school in earlier occasions became the champion in a science exhibition conducted by the state government.
Ridam Bhowmik, son of a primary school teacher, said, "Our aim was to create a rocket which can be operated using low cost fuel. We made a rocket and made it operative using Sir Isaac Newton's third law of physics which states for every action, there is an equal and opposite reaction, which means that in every interaction, there is a pair of forces acting on the two interacting objects".
Ridam's partner Chayan said, "To operate the rocket we used compressed gas and water as its reaction mass. We also projected satellite launching, image processing system as captured by satellite".
Both Ridam and Chayan who want to become electronics engineer once they complete their higher secondary examination, are, expressed their gratitude to their guiding teacher Ram Chandra Biswas and Sovan Sen. "The two teachers are our guiding spirit. Without their help we could hardly materialize our concept. They helped us a lot, explained the scientific aspects and helped to make our creation successful", Chayan said.
Teacher Ram Chandra Biswas said, "The students have very clear concept. We just tried guiding them so that they could explain their objectives properly".