Bethuadahari, June 4: At least eight stray dogs were suspected to have been killed by unidentified persons by feeding them meat laced with poison in Nadia's Bethuadahari on Monday night.
The local residents in Khidirpur village near Bethuadahari were shocked to see that the dogs are lying dead at several places on the villager road on Tuesday morning. Some of the dogs were bleeding from mouth. The villagers called police who sent the dead dogs for post mortem to a veterinary hospital.
Villagers have claimed that they have seen some more dogs in dying state. However, no more dead dog could be recovered till late Wednesday night.
The incident angered the local residents which prompted the police to start a case against unknown persons suspecting that the dogs were poisoned to death.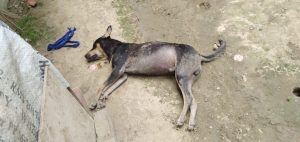 An officer of Nakashipara police station said, "It appears that the killer has a great dislike for the dogs. He apparently lured the dogs with meat, offered the food to them which eventually killed them as the meat was laced with poison".
"We have found scattered pieces of meats lying on the road in the village, which indicate that the dogs were given meat before death", an officer of Nakashipara police station said.
"We are, however, waiting for a detailed post mortem report to be sure enough about the reason behind death", the officer added.
At present, police have started inquiries asking local residents about the suspected killer of the dogs. "We are trying to obtain footage of CCTV installed at a private building to find out a clue behind the killing", a police officer said.
An animal care activist in Krishnagar said that police should immediately begin a case under section 429 of IPC for mischief by killing or maiming cattle and punish the killer.