Gede, May 23: India on Tuesday offered PM Gati Shakti Technology, a National level master plan for multi-modal connectivity, to Bangladesh as a friendly gesture so that the planning process for the development of railways in the neighboring country improves significantly. 
This has been announced by union railways minister Ashwini Vaishnaw on Tuesday while handing over 20 locomotive engines to Bangladesh through the virtual medium from Railway Bhawan in New Delhi.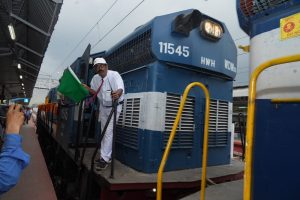 The 3003 HP locomotives with a speed capacity of 120 KMPH which is grossly worth over Rupees 100 crores were handed over to Bangladesh as a 'gift' to help the neighboring country to handle the increasing volume of passenger and goods traffic. Speaking about handing over the locomotives, Vaishnaw said, "This is a promise made by Prime Minister Narendra Modi fulfilled today".
A railway official in Calcutta said that in keeping with the requirements of Bangladesh Railway; the locomotives have been suitably modified by the Indian side.
A senior official of Eastern Railways said that handing over of the 20 locomotives fulfills a vital commitment made by India during Bangladeshi Prime Minister Sheikh Hasina's visit to India in September last year. 
The engines were flagged off at Gede station in Nadia after the formal handing over was announced. The engines later entered Bangladesh through the Gede (-Darshana (Bangladesh) interchange point. 
Offering PM Gatishakti systems technology for Bangladesh that aims to create a comprehensive digital platform for more holistic and integrated planning of projects, interconnecting different ministries like Roadways, Railways, Airways, and Waterways to ensure easy movement of goods, railways minister Ashwini Vaishnaw in his speech said, "India's relationship with Bangladesh is civilizational, cultural, social and economic. Prime Ministers of both countries are playing proactive roles to improve bilateral relationships across social, economic, and political sectors. Indian Railways are also playing a vital role in improving and strengthening rail connectivity across the border and improving trade between both the countries"
"Now this relationship is being strengthened through projects we have taken together".
The minister said that the "response" of three pairs of passenger trains Kolkata-Dhaka Maitree Express, Kolkata-Khulna Bandhan Express, and New Jalpaiguri- Dhaka Mitali Express running at present between India and Bangladesh is very "encouraging" and the government of India is now looking for more and more cross border links, particularly "exchange of passenger and cargo traffic".
He also assured his Bangladeshi counterpart Md. Nurul Islam Sujan for restoration of all nine interchanging points of railways along the Indo-Bangla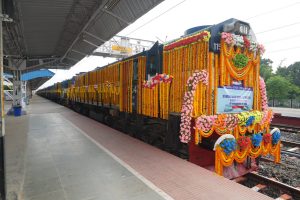 border within a "very short time" for better bilateral trade and people-to-people contact. As of now, five BG connectivity are operational, namely Geda-Darsana, Benapol- Petrapol, Singhabad- Rohanpur, Radhikapur-Birol, and Haldibari-Chilahati. Work on two more cross-border rail connectivity, Akhaura-Agartala and Mahihasan-Shahbazpur is progressing well and is likely to be completed and commissioned shortly
Earlier in July 2020 India in a similar gesture handed over 10 locomotive coaches to the Bangladesh government.
Expressing gratitude to India, railways minister of Bangladesh Nurul Islam Sujan, who was also present at the programme on virtual mode from Dhaka, said, I express my gratitude to the Indian Government for their support. Previously in June 2020, Indian Government provided 10 locomotives to Bangladesh as grants. We express our heartfelt gratitude to India for providing broad gauge locomotives. The supply of locomotives will help to improve both goods and passenger trains. We hope that existing collaboration between two countries regarding the Railways sector will increase day by day".
"India is the most progressed and friendly neighbor. Bangladesh and India enjoy a long-standing historical bond and trusted friendship that has flourished indeed and given new dimensions…this relationship is based on mutual understanding", the Bangladesh railway minister added while recalling India's support in the 1971's Muktijuddha.
Trade between both countries via rail has seen consistent growth with the interchange of close to 100 cargo trains per month and approximately 2.66 MT cargo was sent to Bangladesh in the last financial year. The export commodities are Stone, DOC, Food grains, China Clay, Gypsum, Maize, Onion, and other essential items, as and when required, from India.
Since 2020 permission has been given to operate parcel containers and NMG rakes which normally carry agricultural products, fabrics, finished goods, light commercial vehicles, and tractors. A new traffic of geo-synthetic bags has just started and 3 Parcel trains have been sent from Gujarat.