Nakashipara, Dec. 4: Family members of Masudul Rahaman, 33, the Indo-Tibetan Border Police (ITBP) constable who killed five of his colleagues before shooting himself on Wednesday morning in an outpost in Bastar claimed that repeated denial of leave for a coveted homecoming led to depression that worked behind the bizarre incident.
The young jawan from Nadia's Nakashipara had missed dates of his wedding at least twice despite his parents made all the initial preparations. But,
Masudul was not granted leave.
His parents off late negotiated his marriage with a girl from Rejinagar next month (January) and advised him for a long live so that he can return with his bride. But, the leave was not granted again.
For about last one year the young jawan had been trying to visit home in Bilkumari-Paschimpara village of Nadia's Nakashipara, but on all the occasions his appeal was turned down.
Third among the three brother, Masudul joined service in 2008 after passing HS examination. His first posting was in Dehradun. Later he was
transferred to Bastar as a jawan of B/45 battalion ITB.
Masudul's parents alleged that such repeated denial of leave put their son in serious depression that led to the bizarre incident.
His mother Hanifa Begum said, "My son used to tell me that the authorities are very rude. Whenever called, I found in despair with an eagerness to see us, to meet his sisters. But that will never materialize again".
On Wednesday morning Masudul killed five of his colleagues and injured two other in Kademar area of Bastar in Narayanpur district of Chattisgarh in an ITBP camp. Two of the five colleagues he killed were residents of Purbasthali and Purulia.
While the exact reason behind the incident could not be ascertained, Masudul's parents and neighbors claimed that the rude behavior and denial of leave might led to violent outcome.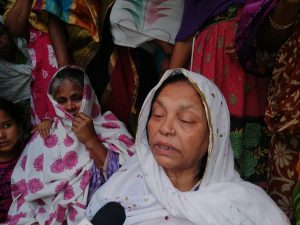 The news of Masudul's unusual behavior meanwhile shocked the residents of Paschim Para village. Ramiz Seikh, a close friend of Masudul said, "He was an exceptional boy. I never had seen him even misbehaving with anybody. He was very soft in nature and the rough job he joined was quite opposite to his nature, about which we used to crack joke with him".
His father a retired constable of Bengal police said, "My son was quite jovial and loyal to seniors. I think that there was something quite humiliating that became unbearable to him. He was depressed for non approval of leave. In last week he called me when I advised him to have patience."
"He was quite eager to visit home since he did not come after the last visit in December last year. This time we scheduled his wedding and told him to come with long live so that all rituals could be completed and he could return with new bride. But leave was not granted. It was a big problem", he added".
The ITBP authorities late on Wednesday the evening in New Delhi claimed that Masudul was granted two months leave and scheduled to begin journey on Wednesday. But, his parents did not confirm such claim. "If he was granted leave, he must have told us…" said Hanifa Begum, his mother.
Masudul's mother Hanifa said, "I called his number on Wednesday morning when someone said to call after 5 PM. He used to tell me that never cry for him as he worked in a difficult area to save common people. He also said that there are many colleagues who did not even visited home for about two years"