Ranaghat, Aug. 29: A Bihar-based gang entered the Senco Gold's showroom located on Mission Road in disguise of customers and decamped with cash and jewelry worth about Rupees ten crore in broad daylight on Tuesday afternoon. However, some brave police officers chased the gang and exchanged fire before they managed to nab five of the robbers till Tuesday evening. At least two robbers suffered bullet injuries on the leg, but police officials were lucky to remain unhurt despite the miscreants firing eight rounds targeting them while trying to flee desperately with the booty.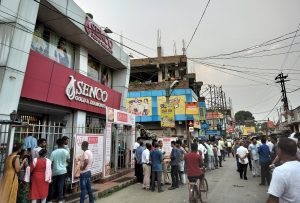 Police could recover only a very small part of the booty – a cash amount of Rupees 3.70 lakhs and jewelry worth around Rupees 90 lakhs. The Senco Gold store had on display gold jewelry worth around Rupees 14 crores, an official of the franchisee said.
At about 3 p.m., when a section of the employees of the jewelry showroom was busy taking their lunch, four of the robbers first entered inside. They put guns on the head of the security staff and asked the employees and customers to keep silent and surrender their mobile phones.
An employee of the showroom said, "First they took away the cash amount of Rupees 3.70 lakh and later robbed the entire collections of jewelry, which were on display for sale. They finished the operation barely
within ten minutes and tried to flee fast, but encountered police almost near the exit".
Local sources said one of the employees of the showroom, while taking lunch at the CCTV control realized about the robbery and informed police immediately.
"A team of Ranaghat police which was on a patrol near the spot was alerted immediately, who arrived at the when the robbers took the exit", a senior police officer said.
Eyewitnesses said that finding police in front of them, the miscreants, who came on three motorcycles, began trying to run away through Mission Road while firing at the police officials.
"But our officers were brave enough as they chased them risking their lives and also fired in defence in which two miscreant was injured, while three others were nabbed', said DIG South Bengal Rashid Munir Khan. Another robber was nabbed later in the evening from Cooper's camp area when he was roaming suspiciously.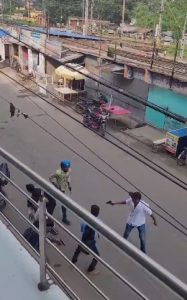 The injured robbers were later admitted to Ranaghat sub divisional hospital.
Police have recovered four improvised pistols, 22 rounds of live ammunition, some aadhaar cards, and some fake car number plates from the miscreants.
DIG Rashid Munir Khan said, "After preliminary interrogation, we came to know that the gang members were staying at a rented house in Kalyani for about three weeks and visited Ranaghat on a number of occasions for the heist."
Our prime target is now to trace out the remaining four gang members, the DIG added.