Kalyani , Feb. 19:  An alleged errant driving of a patrolling vehicle of police through a narrow road crowded due to a religious congregation of the Matua community that unleashed panic and spoiled "prasad" for distribution led to a violent clash between the cult group members and cops in Kalyani town on Sunday night. 
Angry devotees vandalized a police vehicle after some police officials allegedly abused the protesting devotees and lathi-charged them aggravating the situation further. Over a dozen persons were injured in the incident that further led to the gherao of Kalyani police station for about two hours by the Matua devotees demanding the release of the devotees detained by police and also unconditional apology of the errant police officials.
Normalcy was restored only after senior officials of Kalyani police beg an apology and released the detained devotees
Trouble began at about 6 pm on Sunday when the distribution of Bhog prasad was undergoing outside the Narottam Brajobashi Goswami Sebashram located in Chandmari Purbapara of Kalyani town (Ward 1).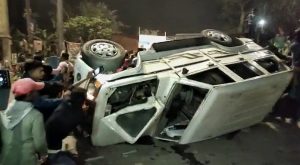 "There was a puja due to the 42nd death anniversary of one of our cult gurus at the Ashram on Sunday evening followed by prasad distribution. A few thousand devotees had gathered at the venue, who were taking prasad standing on the space adjacent to the road when a police vehicle trying to pass through the crowded road in high speed unleashed panic…." Manjit Mondal, a Matua devotee, and local resident said.
"The vehicle was trying to pass through so fast ignoring the crowd that people tried to escape leaving the prasad….the helter-skelter situation panicked devotees that spoiled huge amount of Bhog…People managed to stop the vehicle. But the police officials abused us…when we protested they brought a large police team and began to lathi charge", he added further.
In retaliation, a few hundred Matua devotees turned violent and clashed with the cops. They hurled stones targeting police and vandalized one of its vehicles and chased them away from the spot. Over a dozen persons including children were injured. Police detained three devotees that prompted the Matuas to gherao the Kalyani police station.
BJP's Kalyani MLA Ambika Roy later rushed to the Kalyani police station to pacify the angry Matua devotees. He also talked to the senior police officers.
"The behavior of some police officials is shocking. They are responsible for the sheer embarrassment caused to the Police. Matua devotees have a genuine grievance that forced them to take on the road to protest the threat and assault…police did not spare even the children…Now senior police officers realized the fault and become apologetic", MLA Ambika Roy said.
A senior police officer, however, refused to acknowledge begging "apology". "We acted to disperse unruly violent mob who attacked cops, ransacked our vehicle…A case has been started on the incident", he said.