Ranaghat, Sept. 12: Nadia district administration organized a quiz competition in Ranaghat for students on 'Duare Sarkar' initiative, to make the young generations and common people aware of the beneficial schemes and other facilities offered by the state government at their doorstep.
The quiz competition, which the Nadia administration claimed to be the first one of its kind since the launching of the Duare Sarkar initiative on December 2020, evoked a huge response among students and local residents as 24 schools from Ranaghat 1 block and Ranaghat Municipality area participated.
Duare Sarkar is an outreach initiative, conceptualized by Chief Minister Mamata Banerjee, for the delivery of services and welfare schemes at the doorsteps of the people through camps. These camps are organized at the level of gram panchayat and municipal ward level and act as service providers of specific welfare schemes
 Around 120 questions on various schemes of Duare Sarkar were asked in the competition conducted mainly by SDO Ranaghat Raunak Agarwal, who played the role of quiz master.
Pal Choudhary High School's team comprised of Rik Banerjee and Ritabrata Bhattacharjee, secured the first position and won a cash award of Rupees five thousand.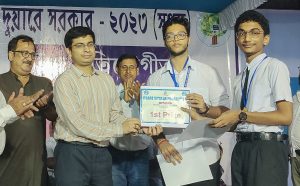 Aitree Mitra and Ankita Pal of Debnath Girls' High School secured the second position and were awarded Rupees three thousand.
Speaking to The NfN, SDO Ranaghat Raunak Agarwal said, "Our objective is to make the young students and common people aware so that they can learn about the beneficial schemes. It is a sort of outreach initiative to make the government's endeavor more popular and at the same time. Help people to find out the right scheme for them".
An official of the district administration said that special emphasis was given on schemes for migrant workers, Kishan Bondhu, Bhavisya Credit card, Kanyashree, and other schemes.
"We asked questions and at the same time analyzed its details with the eligibility criteria so that students and people can easily understand and identify their needed ones", the official said.
There were three rounds of the competition. The preliminary round consisted of 20 written questions that followed two live question answer rounds, said the SDO. "We tried to cover all the schemes and departments", he added further.
Rik Banerjee, a winning student said, "I knew little about the Duare Sarkar. But a study on the scheme while preparing for the quiz show helped me a lot and I can now help people as well to get their needed benefit".