Ranaghat, Aug. 31: Police investigating the Senco Gold robbery in Ranaghat said that one of the five robbers arrested is Kundan Singh Yadav, a Vaishali-based professional shooter, who is suspected to be involved in the murder of businessman Rajesh Jha that occurred in Shaktigarh on April 1.
Jha joined the BJP ahead of the 2021 assembly polls but was isolated by the party after the election. A special investigating team of East Burdwan police conducting the murder probe was in search of Singh, who came to their reach unexpectedly on Wednesday night during an interrogation under police custody in Ranaghat.
A special team of East Burdwan police went to Ranaghat apparently to find a link with a similar heist that occurred in Purulia town on Tuesday. While examining the five accused, the East Burdwan police team was surprised to have found Kundan among the five youths arrested in connection with the Ranaghat robbery.
"It is almost like a bolt from the blue to see Kundan among the arrested ones in Ranaghat. We were in search of him for a long and getting Kundan is quite surprising to us", a police officer said.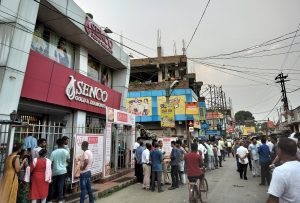 "During the interrogation, Kundan told us that he was among the shooters who fired at Rajesh Jha at Shaktigarh. Later we came to know that he is a professional shooter and was hiding in Bihar after the murder. He was also the mastermind of the jewelry shop robbery in Ranaghat and was staying at a rented house with others in Kalyani town for about three weeks before committing the crime," said a police officer in Ranaghat.
Ranaghat police sources said that the five robbers arrested in connection with the Senco Gold incident are identified as Kundan Singh Yadav, Raju Kumar Paswan, Rikki Paswan, Manikant Kumar Yadav, and Chottu Kumar Paswan.  Manikant and Chottu suffered bullet injuries during the crossfire with police and are now admitted to the Ranaghat sub-divisional hospital.
Sources said that two police officers of SIT from East Burdwan had gone to Ranaghat on Thursday and identified Kundan and confirmed his presence during Jha's murder from the CCTV footage.
Speaking to The NfN Superintendent of Police, Ranaghat K. Kannan said, "A team of East Burdwan police visited Ranaghat on Wednesday to check the identity of five miscreants we arrested in connection with the jewelry shop robbery on Tuesday. Among the five, they have in particular identified Kundan Singh, who they wanted in connection with Raju Jha's murder for a long time.  They also interrogated him preliminary and got some links with the murder"
"They have identified Kundan as the same person whom they were looking for. They would take further legal steps in connection with the murder probe", Superintendent of Police Ranaghat police district K. Kannan told The NfN.
Rajesh Jha alias Raju a businessman with alleged links in coal smuggling was shot dead by three assailants while he was sitting in an SUV at Shaktigarh on April 1 evening. The high-profile murder took place when Jha was traveling to Calcutta with his aid Bratin Mukherjee and Abdul Latif a prime accused in the cattle smuggling case being probed by the CBI.
A special investigating team (SIT) headed by the superintendent of East Burdwan police was constituted to investigate the murder. However, later the case was handed over to the CBI following a High Court order in June.
Meanwhile, no further arrest could be done by Ranaghat police in connection with the Senco Gold robbery. The three remaining gang members, who are suspected to have fled with around Rupees nine crores of the booty remained elusive increasing the embarrassment of police. Police have found some Hindu religious magazines from Kundan dedicated to disseminating mantra, tantra, and yantra to "eliminate hardship caused by modern lifestyle", as he told the sleuths during the interrogation.