Karimpur, April 16: Distribution of chocolates among children during a confidence building measure in Nadia's Karimpar, prompted Trinamul leadership to raise objection accusing the central force of trying to influence the voters. 
From Monday Central Force have launched route march as part of area domination and abegan interacting with the villagers in several areas of Karimpur assembly segment that falls under Murshidabad Lok Sabha constituency where polls will be held during the third phase slated for April 23.
During the initiative,  BSF personnel, who are parts of the two companies deployed in the area, interacted with the villagers while distributing chocolates among their children as part of confidence building measure among them in area where people witnessed large-scale violence during the last year's panchayat polls. 
While the BJP leadership welcomed the gesture, Trinamul suspects that it might be a ploy to influence voters.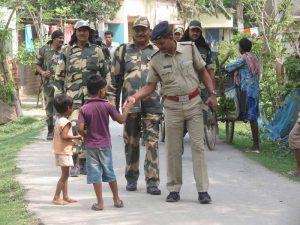 During panchayat elections in areas like Bathanpara, Senpara, Mazlishpur, Pipulberia, Hogolberia, Kanaikhali, Mahamayapalli, Laxmipara and in many other areas miscreants had allegedly threatened voters on the previous day of poll, prevented voters at gun point on way to polling stations,  organised false voting and unleashed terror by hurling bombs as well as opened fire leading to political clashes. Angry mob accusing police of inaction had also attacked police and also torches their vehicles. Nearly similar scenes were also witnessed during counting of votes. These incidents prompted opposition parties mainly BJP and CPM to demand declaring all booths under Karimpur as sensitive.
To help people come out to vote without fear, the central force personnel during route march knocked at the doors of the people and asked them if they are being threatened by hooligans.
Satyajit Sarkar, a resident in Patabuka village said, "The central force jawans gave chocolates to our children and assured us not to be afraid of hooligans. They asked if we are under threat and advised us to call police in case of any threat. They told nothing apart from this.".
Another villager Dilip Ghosh echoed the same.
Nevertheless, while the adults remained mostly silent mainly due to language problem,  the central force jawans won hearts of the children. Children playing at the court yards and on the way to schools were surprised with the sweet gesture of the jawan.
A BSF officer present said, "Our aim is to develop a cordial relationship and proximity with the voters so that they are not afraid of us, rather come up freely and inform us about any possible threat by hooligans. It is just a good will gesture."
During the domination programme local police officers accompanied the central force jawans.
Local Trinamul Congress leadership, however, seems to be not happy with such initiative of the central force personnel and accused the force of influencing the voters. 
Trinamul's Karimpur-1 block president and Nadia zilla Parishad member Tarun Kumar Das said, "The duty of central force is to ensure law and order not to distribute chocolate. This tantamounts violation of code of conduct, which the commission must look into. We will keep watching their activities in the area". 
Trinamul chief Mamata Banerjee has already on a number of occasions alleged the central force jawans have been terrorising voters in the name of making them feel "safe and secure".
BJP's Nadia District North committee member Mrigen Kumar  Biswas said, "Central force has done nothing wrong by distributing chocolates among innocent children. Trinamul leadership  is afraid that due to presence of central forces as their plans to rig the polls might fall flat. So they are trying to mislead people and inciting them too against the central force's.