Santipur, May 31:  Angry villagers torched two houses and a motorcycle when armed miscreants had allegedly made a murderous attack on a youth in Pramod Pally of Nadia's Santipur on Sunday afternoon since he opposed the demolition of a speed breaker in the area.
Police sources said, Debabrata Mondal, 30, brother in law of Trinamul run Nabla gram panchayat member was allegedly hit on his head by accused Pradip Sarkar with a mattock when he opposed his attempt to demolish a speed breaker.
Debabrata was rushed to Ranaghat SD hospital, but as his condition turned very critical he was shifted to SSKM hospital in Calcutta.
The attack angered the local residents who ransacked Pradip's residence and set it on fire. They also torched his motorcycle and prevented firefighters to enter the area to douse the fire. A team of Santipur police, which started a case of a murder attempt, later brought the situation under control.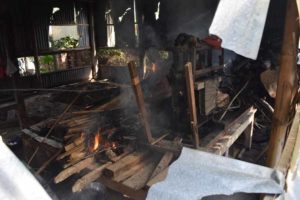 The accused is an expelled Trinamul activist and a former panchayat member, who fled after the attack. His wife fought the last panchayat election as the Trinamul candidate but lost to Debabrata's sister-in-law who fought as an independent candidate and later joined Trinamul reducing his influence in the area. Local sources said, this apparently developed a personal grudge in Pradip against the Mondal family.
Local sources said, a rivalry revived among the two factions of Trinamul supporters in the area ever since a section of put a speed breaker in the area apparently to control the errant motorcyclists. Accused Pradip and his associates were against putting the speed breaker.
On Sunday afternoon, Pradip and some of his associates started demolishing the speed breaker with a mattock claiming that it was causing inconvenience to commuters. But, when Debabrata opposed them, Pradip hit him with the mattock injuring him fatally.
Pradhan of Trinamul run panchayat Sudip Pramanik said, however, alleged BJP's hand behind the attack claiming that Pradip as a BJP activist. "He was expelled for his unlawful activities and criminal connections. He was trying to unleash tension in the area with the support of BJP".