Chakdah, June 2: A joyride on a new motorcycle turned fatal when a class X boy was crushed to death along with one of his friends as he rammed a stationary vehicle head-on at a high speed on Bongaon expressway in Pumlia-Talikhola area at the outskirts of Chakdah town on Monday night.
While Pinaki Chatterjee alias Arghya, 16, a resident of Netaji Park in the town, who was riding the motorcycle died on the spot, his friend  Tubai Debnath, 19, who was on the pillion, succumbed to the injuries at the Jawaharlal Nehru Memorial hospital in Kalyani during the wee hours of Tuesday morning.  Tubai was a resident Subhashnagar in the town. None of the boys had helmets on their heads and suffered fatal head injuries due to the crash, police said.
Local sources said, Pinaki, son a Subir Chatterjee, a physiotherapist, left home early in the evening on his new motorcycle bought barely 11 days ago.
Police sources said he took his friend Tubai on the pillion and left for a joyride on the Bongaon expressway that turned deserted due to lockdown late in the evening.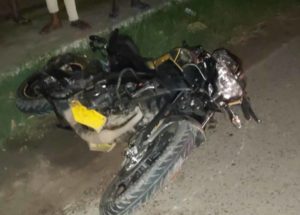 After a preliminary investigation, an officer of Chakdah police said that while returning towards Chakdah at about 8.30 PM, Pinaki apparently lost control and hit a pick-up van head-on high speed which was parked on the right edge of the road.
Local residents heard a crushing sound and came out to find the two teens lying in a pool of blood along with the motorcycle. They took the duo to Chakdah state general hospital, where Pinaki was pronounced dead. A critically injured Tubai was immediately transferred to JNM Hospital in Kalyani, but he died there later.
Family members of the two deceased teens came to know about the accident only after their photographs went viral in social media platforms later in the night.
A pall of gloom descended both in Chakdah town after the news of the demise of the two teens reached the residents.
A neighbour of Pinaki said, "Motorcycle was a passion for him. It was his dream to own a motorcycle which turned into a reality a few days ago when his parents' despite much opposition agreed to buy it for him. However, their fear turned out to be true….".
Senior Trinamul leader and Chakdah MLA Ratna Ghosh met the bereaved parents at their homes and expressed her deep condolence on Tuesday evening prior to the bodies were taken for the last rites.