Tehatta, May 17: Two migrant laborers recently returned home in different areas under the Tehatta subdivision were tested Covid positive on Sunday night. Both the laborers were taken to Kalyani based SNR Carnival hospital, the only dedicated Covid care hospital in Nadia district.
With the inclusion of two new patients, the number of active Covid patients undergoing treatment in the district raised to 14.
Sources in the district administration said that the new two patients include, a 26 years youth from the Duttapara (West)  area of Tehatta town, while the other is from the Sahebpara area of Dhoradaha gram panchayat under Thanarpara police station.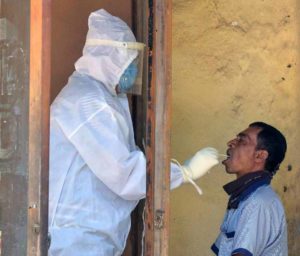 The Tehatta based youth, a mason by profession, returned home from Maharashtra by arranging a lorry along with others on May 12. An official of the district administration said, "He was advised home quarantine, but soon developed Covid symptoms. His swab samples were sent for the Covid test to Murshidabad Medical College & Hospital on May 15, which confirmed him as a positive case on Sunday evening". 
"The youth's family members that include his elderly grandmother and some neighbors have been sent for quarantine. Their swab samples being sent for Covid test", an officer of the Tehatta Sub Division's Covid management cell said. 
On the other hand, the Thanarpara based youth is also a construction worker, who returned home last week from Kerala and advised home quarantine. His swab samples were sent for the test on May 15 to Murshidabad. His family members have been sent for quarantine late on Sunday evening. 
A senior officer of the district administration said, "Preparations being taken to cordon off 3-km radius zone around the residence of the Covid patients in Tehatta and Thanarpara and to declare it as containment zones for the next three weeks. We have worked out a detailed containment plan and already started making people aware of the detection of positive cases in their areas.  They are being advised to stay home strictly. All their needs will be made available by the district administration at their doorsteps. Any violation of contamination plan and directives will be dealt with strongly". 
"There will be rapid tests and repeated fever testing by the health workers in both the areas during the containment period", a health wing official said.
Meanwhile, Trinamul's MP from Krishnagar Mahua Moitra in a video message on social media has appealed all to stay home and avoid crowding on the road. She particularly appealed to the migrant laborers and their family members to be careful enough and to confine themselves inside the home for the sake of their life and for other people.  
"A large number of migrant laborers have started returning home in the district from different places of the country. I appeal to all of them and their family members to stay home under quarantine and follow the directives of the health workers strictly. I hope everybody would understand its importance…", Moitra said.
Pictures by Abhi Ghosh