Santipur, Oct. 26: Family members of the two youths from Nadia's Santipur, who were killed in a bus crash near the Muslim holy city of Medina last week, have appealed to the state government for help to bring their bodies back home. 
The family members of Mongal Ahammed Karikar (26) and Hakim Ali Karikar (29), who came to know about their death on Saturday only after police conveyed the bad news to the two families at their homes in Karikar para of Santipur town. Both the victims were graduate and unmarried.
Mongol and Hakim were among the 9 Indians out 35 pilgrims who were killed in the bus accident on the way to Mecca that occurred on Hijra road, a link road between Mecca and Medina in Saudi Arabia on October 16 evening.
According to colleagues of the victims and their families, the victims were on "umrah" – the lesser pilgrimage to the Muslim holy places, which can be undertaken round the year and hired a bus for it.
Most of the 35 victims died due to burn injuries since the chartered bus which they were traveling had engulfed in flames after a collision with an excavator, around 170 Km away from Mecca, Saudi media agencies citing local police said. 
Both the deceased who worked in a shopping mall in Riyadh were going to Mecca when the accident occurred on Hijra road. Hakim joined the job four years ago, whereas Mongal joined in 2018. Both the deceased, who were neighbors, were scheduled to return home on Sunday. But, news of their death reached home a day ahead.
"Anguished by the news of a bus crash near Mecca in Saudi Arabia. Condolences to the families of those who lost their lives. Praying for a quick recovery of the injured"  – Narendra Modi, Prime Minister (Twitter)
Both the families, who are weavers by profession, have appealed through chief minister Mamata Banerjee through the Santipur civic administration so that the bodies could be brought back without hassle. 
Shabbir Ali, Mongal's elder brother said, "We are poor weavers. It will be difficult for us to unless the chief minister Mamata Banerjee comes up to help us bring back the bodies. We have requested police who came to our home and Municipality authorities to do the needful in this regard".
Abdus Salam Karikar, Vice-chairman of Santipur Municipality, said, "Necessary action to bring back bodies will be taken in consultation with the state government".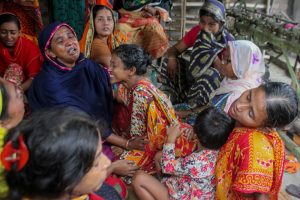 Colleagues of two deceased, however, told the family members on Saturday that it would be very difficult to return the bodies since they were charred. "They acknowledged their death today and said that the bodies went beyond recognition. Nevertheless, we will be eagerly waiting to receive their remains to perform the last rites", Hakim's father Arafat said.
Hakim's father Arafat Ali Karikar, a weaver by profession, said, "My son used to call me at least twice every day. But since October  16  afternoon his phone is switched off. He called me on that a little before leaving for Mecca. But, this long gap made me anxious as I tried to contact some of his colleagues but they avoided me. This made me apprehend something wrong. I also smell bad when learned about the accident of the pilgrim near Mecca. My apprehension eventually turned true as police officials arrived home and conveyed the bad news'.
Makim Ali said, Hakim's brother said, "He was scheduled to return home after 4 years and sent us details of flight so that we can receive them at the Dumdum airport…but, now we will receive his coffin for the last rites".
Prime Minister Narendra Modi had expressed anguish over the deaths in the bus accident. He tweeted, "Anguished by the news of a bus crash near Mecca in Saudi Arabia. Condolences to the families of those who lost their lives. Praying for a quick recovery of the injured".