Choumaha, Feb. 18: Residents of Choumaha village in Nadia's Nakashipasra will always remember actor Tapas Pal, but not the politician, who served them as two times MP. The residents in the village which changed the life of Tapas Pal for his infamous June 2014 'rape and kill' speech mourned the sudden demise of Paul on Tuesday with many reservations.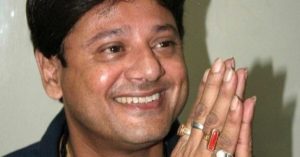 The villagers who woke up with the news of Pal's death said that popular public personalities like sportsmen, singers, actors should avoid joining politics to protect the respect they earned by their virtues.
A large number of residents in Choumaha, located 40 km from away from Krishnagar, gathered around the Ashoka tree where Pal on June 14, 2014, had threatened to shoot his political opponents and to get their women raped by his men. Most of the villagers opined that popular public personalities should avoid joining politics so that they could avoid political compulsion and enjoy the love and respect forever.
Kuddus Seikh, a farmer in Choumaha said, "We feel sorry for Tapas Pal. Today death has put him beyond all criticism. But, people in Choumaha would try to forget him as their MP, but not the actor. They would always remember Tapas Paul as 'Saheb' or the innocent 'Kedar' of Dadar Kirti. The politics should be blamed for such turnaround".
Tamal Mandal, a farmer in Choumaha said, "It was a political compulsion that led Tapas Paul to utter bad words which even made his fans isolated from him. But, he was a very respected and adorable person as an actor. The politics changed him gradually".
"The common man respect actors, sportspersons, singers and many such persons without their political prejudice. It becomes very tough for the common man when their adorable personality joins a political party. So such personalities should keep in mind that their political leaning and compulsion may hurt their fans. Such public figures must be politically conscious, should express their opinion on issues, but avoid joining political parties", said Mofizur Rehman, a cable operator in Choumaha.
"The politics took away the actor Tapas Paul permanently. He had many more things to offer the Bengali film lovers…", Mofizur added.
In Kalyani elderly actor Madhabi Mukherjee also echoed the same words. While speaking to reporters she stated that politics made an impact on the acting and life of Paul. 'Tapas failed to understand the hard realities of politics..it made an impact. I know him for long. He was like my son. He was a very simple man and not the ideal one to realize the hard realities of politics…time will say it better, she said. "To me, his death is a big loss, ..very adorable and I loved him blindly. His death is very shocking to me", she added further.