Kalyani, April 1: An online cross-section study aimed to assess the psychological impact of Covid 19 in the state done by Professor Kaustav Chakraborty of the department of psychiatry and Moumita Chatterjee, department of anatomy has revealed that the fear of the disease has created serious depression on a large section of the people even though they in no way came in contact to positive patients.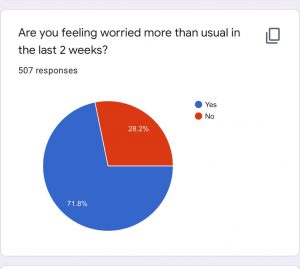 The study indicates that about 71.2% of the respondents felt worried and remained depressed for the past two weeks which made 37.1% of them more irritable.
64.9% of people found that the Covid 19 has affected their mental status to a large extent. 25.6% of them have stated that the disease has threatened their existence whereas 30.8% have found it difficult to adjust the lockdown situation which 96.3% of the respondents have supported.
The respondents include doctors, police, administrative officials, armed force personnel, homemaker, bank employee, teacher, professors, businessmen, medical representatives, students, engineers, lawyers, private sector employees and self-employed persons of rural, urban, semi-urban and metropolitan areas from mixed religious communities.
The study has been welcomed by the Indian Psychiatric Society. A senior member of the organization stated that it would conduct a bigger study to find more dimensions of the psychological impact of the deadly disease very soon.
The short survey has also revealed that 52.1% of respondents are still preoccupied with the fear of contracting the deadly disease, which has made 57.8% of them worried more than usual.
Total respondent: 507
Male: 382
Female: 125
Method: Online Google form
Survey time: March 29-30 (24 hours)
Depressed: 71.2%
Whatsapp influence: 25.6%
Whatsapp influence: 37.7%
Afraid of contracting disease: 52.1%
Worried for future: 57.8%
Fear of financial loss: 69.6%
Supporting lockdown: 96.3%
At least 37.1% of respondents have also acknowledged that the fear has made them more irritatable, while 33.1% said that they have been suffering from the sleep-wake cycle.
Kaustav Chakraborty, Associate Professor and Head of Department of Psychiatry at the College of Medicine said, "People are gripped with panic. We have observed an unprecedented scare syndrome in a large section of people. The study we have done is the tip of an iceberg".
"The World Health Organisation apprehended such psychological impact since the disease comes out to be a pandemic", he added.
During January 2020, the WHO declared Covid 19 as a public health emergency of international concern. Early this month WHO characterized it as a pandemic and apprehended a crisis of 'generating stresses. WHO's Mental Health and Substance wing also issued certain advisories to support mental and psychosocial well-being for different target groups.
"In our country, the central and state governments have been following WHO guidelines so that people are not panicked. Nevertheless, the anxiety has gripped people making a serious psychological impact", Professor Chakraborty said.
"As a doctor, I have met many people during the past one month who despite fit enough suffering wide range of fear psychosis. This inspired us to take the study", he added further
The study done by the duo revealed that 69.6% of the respondents are worried about the financial loss they have been compelled to incur during the lockdown.
Some horrible factors also come up in the study. 10.8% of the respondents have acknowledged that they are taking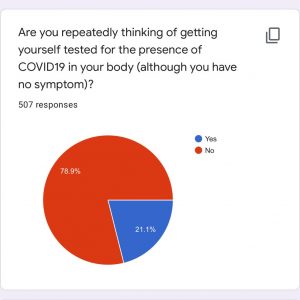 hydroxychloroquine as prophylaxis for Covid 19 as advised by ICMR without any doctor's advice.
The study has also found that social media has a good contribution to depression. 25.6% of the respondents have acknowledged that they became afraid after reading messages in WhatsApp, whereas 34.7% of them claimed that they felt threatened by Facebook messages. To overcome the fear, some people (2.2%) used psychiatry helpline while some (2%) started taking an antidepressant drug, while some other (4.5%) started taking sleeping pills.
Speaking about the possible remedies Professor Chakraborty said, "There is no immediate solution. But, people must try to minimize watching, reading or listening to news of Covid 19 in social and other media that can make them distressed. One should also take practical steps and prepare to protect himself and his loved ones. He should not throughout the day seek updated news about the outbreak because it would only make him depressed"