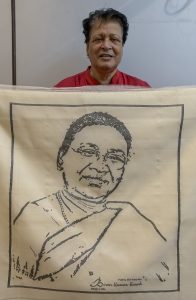 Phulia, July 29: Padmashree awardee weaver Biren Kumar Basak and his three assistants have handcrafted a "line art" image of the newly elected President of India Mrs. Droupadi Murmu at his workshop in Nadia's Phulia. The decorative piece of work, a wall hanging, was crafted on a piece of Jamdani fabric by Basak and his three assistants –  Bibek Biswas, Tokon Biswas, and Siddiq Khan in just 20 days since she submitted the nomination for the top post.
The piece is expected to be handed over as a congratulatory gesture to the President on August 7 at a programme in New Delhi. Droupadi Murmu is the latest addition to Basak's list of celebrities of whom he has handcrafted their images similarly on Jamadani fabric as a decorative item.
In 2017 Basak created a 3085-meter-long taant sari which he dedicated to the Nation on the occasion of New Year's Day as a mark of his tribute to the Motherland.
The elderly weaver was conferred the National award in 2012 and the Sant Kabir award in 2013 for his outstanding skill and exquisite craftsmanship by the Ministry of Textiles. In 2016 Prime Minister Narendra Modi handed over the awards to him in Chennai.
He was also conferred the honorary doctorate (honoris causa) by World Record University earlier for his work depicting the epic Ramayana on a hand woven Sari.
Droupadi Murmu
Mrs. Droupadi Murmu is elected as 15th President of India. She is the first President of India from Tribal community and second woman President after Mrs. Pratibha Patil
NfN Picture.