Krishnanagar, June 18: 69 years old Nirmal Kumar Chanda, a poet by passion and a gas oven mechanic by profession from Ghurni area of Nadia's Krishnanagar, has began a sit-in demonstration protesting the farm bill, murders of journalists, alleged communal agenda of the BJP, its efforts of saffronisation of education system and to condemn the centre's desperate attempts to throttle the voice of dissents by slapping sedition charges.
With his ailing health that includes a damaged spine and a broken left arm, the elderly man, who graduated in commerce in 1976, has been demonstrating for two hours in the afternoon since May 26 in front of Netaji statue located at the post office square in Krishnanagar town.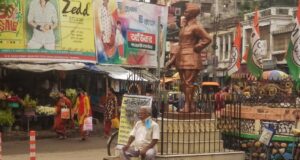 With no attention from the media, as well as from political parties the elderly poet, who is more known for prolific limericks, has been continuing the silent protest alone with a small flex banner arranged by some of his friends.  Despite a prohibition by doctors to walk and sit for a long time due to his damaged spine, Chanda has been tirelessly continuing with his protest everyday for the last three weeks.
"I am neither a politician nor support any political party. As a common man and a poet by passion, I avoid all sorts of contentions and confrontations. But things have come to such a passé under the regime of Prime Minister Narendra Modi that as a senior citizen I lost my patience and decided to demonstrate protesting his activities. His governance has become unbearable", Chanda said.
"Many people offered me support and thanked for undertaking such a protest. Nevertheless, they refused to join me apparently being afraid of possible sedition charges against them. So I decided to go alone", he further said quoting Tagore's song "Jodi Tor Daak Shuney Keu Na Aashe Tobey Ekla Cholo Re (If they answer not to thy call walk alone).
"Modiji Desh taakey dhongsher pathey niye jachhen. (Modiji has been leading the country towards destruction), Chanda, whose monthly income seldom crosses Rs.5000 said with anger.
"His fascist style of functioning, his government's attempts to throttle the voice of dissents with sedition charges have become unbearable, which no citizen with a logical mind can digest at all. So I launch this protest in my own way to make a mark before death", Chanda said adding that he would have demonstrated throughout the day unless needed to work for a living. Chanda's wife Sabita, 60, also works as a domestic help.
"It has become more than six months since farmers have been protesting the new acts, but nothing has so far been done to respect their demands. He has come up as a sheer failure in every field and behaving inhumanly, ignoring the pains and problems of common man, the migrant labours, with ridiculous and oppressive decisions", Chanda alleged adding that he would continue the demonstration as long as his health permits.