Kolkata, Nov. 11: The much awaited local train service from under the jurisdiction of the Eastern and the South Eastern Railways resumed on Wednesday morning after about eight months amid strict vigilance by police and railway authorities ensuring Covid safety protocols. However, the resumption of the service marked with low turnout of passengers particularly during the peak office hours in the morning, which, however, increased later in the day. A major section of the passengers appeared to have avoided undertaking the journey on the first day apparently being apprehensive vulnerability due to the usual heavy rush. 
Police wearing mask were only allowed to enter station after a thermal gun check at the entry of the stations. Other entry points were closed and guarded by police.   
The local train services were suspended since March 24, a day after the centre announced the nationwide lock-down due to the Covid 19 outbreak.
On the first day Eastern Railway authorities operated 413 suburban trains in Sealdah division and 202 in Howrah division. On the other hand the South Eastern Railway operated 81 EMU trains.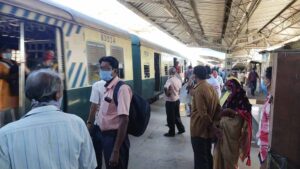 With the phase wise unlocking begun, demand for resumption of the inexpensive local train service was gaining grounds since people trying forced entry to staff special trains creating law and order problem, the state government in last week given its nod to the railway authorities announcing standard operating protocols (SOP).  
Even though the Rail authorities with the support of the state administration tried its best, but passengers despite a low turn out seen jostling to board train and ignored the safe distancing protocols and sit on the 'x' (cross) marked seats which they advised to avoid following the alternate the sitting arrangement. 
Meanwhile, the hawkers have demanded that they be allowed to open their stalls on different railway stations and at its premises. At the same time they also they demanded for entry to train coaches to ferry their items so that they could restore their livelihood which has suffered seriously due to the pandemic situation. 
DRM Sealdah S.P.Singh in tweet has thanked the passengers for undertaking journey complying the Covid safety protocols advised by the Eastern Railway authorities. Responding to an appeal for increase in number of trains, the DRM said, "Today we operated 472 trains which we would try increase by 10% by the next few days with increase in number of passengers".