Santipur, July 17: Some anonymous cut money posters have created an internal squabble in Trinamul Congress in Nadia as the district leadership has alleged that a section of the party is deliberately active to demean the party slapping fake and anonymous posters during night and inciting people against leaders and elected representatives exploiting the political situation that actually created by the BJP on the allged cut money issue for its political interest.
The Nadia Trinamul leadership on Wednesday appraised party chief Mamata Banerjee seeking her intervention after some party workers in Santipur town were caught on CCTV cameras slapping posters at several places riding a white Scorpio on Tuesday night. 
The party has also raised a question on the role of police as during slapping of posters in at least nine wards in the town no patrolling vehicle of police was seen intercepting the suspected white Scorpio that was used anonymous posters.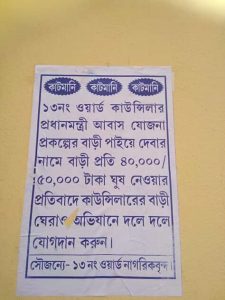 Trinamul's Nadia president Sankar Singh said, "We will take up the role of police with the state administration. Meanwhile, I have told the police to identify the persons and to take action as per law for slapping anonymous posters that actually used to create law and order problem".
The suspected Trinamul workers allegedly slapped posters accusing at least nine party councilors including former MLA and civic body chief Ajoy De for taking 'cut money' from the beneficiaries under the Prime Minister's Urban housing scheme. 
The content and design of the posters are identically the same and apparently printed at the same press with different ward numbers. 
CCTV footage shows that at least four persons known escorted by two motorcyclists slapping posters from 2.40am in ward number 12, 13, 14, 15, 17, 18, 21, 22, 24. Senior Trinamul leader and chairman Ajoy De represents Ward 13, while the remaining wards are represented by his close aides. 
While Ajoy and party's district president Sankar Singh refused to blame any leader directly, several party workers and councilors alleged that the youths seen on CCTV footage are close aides of party's Santipur MLA Arindam Bhattacharjee.
Chairman Ajoy De said, "CCTV footage shows that the youths slapping posters are the well-known face and all know to which party they belong. It is quite unfortunate that my party workers trying to humiliate me on an issue which the CPM even could not do during its rule. If anybody has anything to say against me I urge him to face me without fear…but never play from behind ".
Trinamul councilor of a ward where posters were slapped said, "Some party workers close to our party MLA Arindam Bhattacharjee have been trying to create problems slapping anonymous posters and circulating leaflets…Their only aim is to create tension and to humiliate Ajoy De. During the Lok Sabha poll, they worked to help BJP. We told party leadership but it did nothing".
Party insiders claimed that internal bickering cropped up between Ajoy De and Arindam Bhattacharjee ever since the later, who won on Congress ticket, joined Trinamul in 2017.
Trinamul's Nadia president Sankar Singh literally acknowledging the involvement of party workers behind slapping posters, said, "It is quite unfortunate that some leaders staying in the party seriously damaging the party's impression before people. We have brought the matter to the notice of top leadership including the chief minister. We have also started inquiry to identify such leaders and party workers and at the same time told the police to find out the persons slapped posters as we as our leaders who played from behind".
The Trinamul leadership meanwhile on Wednesday evening organized a public meeting where it has issued 48 hours deadline to the police to nab the vehicle and its passengers who were seen slapping posters.
"Let the police prove that they were not sleeping last night", chairman Ajoy De said.
Superintendent of Ranaghat police VSR Ananthnag said, "We so far received no complaint..". When asked how police overlooked the mysterious vehicle roaming in the town for over two hours, he said, "I have to check facts first to reply".