Mayapur, Aug. 10: In the wake of an increasing number of Covid cases in Nadia, the Iskcon authorities announced to shut down of its temple premises in Mayapur suspending the daily 'darshan' of the deities from Sunday for at least one month to avoid spreading of the deadly virus.
As per the decision announced by the Iskcon authorities no visitor, devotee, and pilgrim will be allowed to enter the Chandradaya temple premise at the Iskcon's headquarter in Mayapur during the period. Iskcon Mayapur's Head of communications Subroto Das said, "Only the pujaris will be allowed to enter inside the temple premise during this period to carry out the daily services to the deities".
With the fresh decision, the Iskcon authorities managed to avoid the huge number visit of visitors on the occasion of the Janmashtami festival slated for August 12. The Iskcon authorities through a communication have appealed to its devotees and visitors to participate in the regular aarti and festivities on the occasion of Janmashtami through online platforms.
Das said, "A few thousand people would attend the festival which could create the situation vulnerable further. So we have appealed all to use the online medium to offer their prayers and to participate in the festival".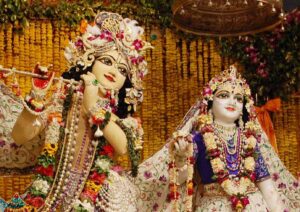 Sources said that the recent spike in the number of Covid positive cases across the Nadia as well as in the Nabadwip block apparently compelled the Iskcon authorities to close its gate for the visitors for the second time during past five months. Till Monday Nadia has recorded 1340 Covid positive cases with a sudden spike during the past one month.
"We are in touch with the district administration about the Covid situation and complying with their guidelines to ensure safety for all. The decision of suspension of the premise for darshan will be reviewed after 2 weeks for any further change", Das said.
Earlier on March 23, Iskcon announced a complete shutdown at its headquarters in compliance with the government directives due to the nationwide lockdown. 
On July 5, the Iskcon authorities re-opened its temple premise for the devotees and visitors after a gap of 90 days due to the Covid situation. Since then the visitors were allowed to enter the temple premise only for ten hours between 9 am and 7 pm with certain mandatory precautionary measures under CC Camera surveillance to avoid infection. Visitors were allowed to enter wearing masks after proper health screening and maintaining the safe distance whereas the vehicles were sanitized before entry.