Krishnanagar, Jan. 18: Barely within 48 hours of the extension of his tenure, BJP's National President J.P.Nadda would kick off the party's campaign for the ensuing panchayat poll in Bengal from Nadia's Nakashipara on Thursday
To begin his new term Nadda will address a rally at the Bethuadahari Junior East Bengal ground in the Muslim-dominated hamlet located under the Krishnagar Lok Sabha constituency.
BJP's Nadia North Organising district committee has instructed all the Mandals to mobilize a maximum number of supporters to Nadda's rally from all the seven assembly segments of the Krishnangagr constituency, which is one of the 14 seats listed by the party as its ambitious target to win in the 2024 general election.
"Our preliminary target is to perform well in the Gram panchayat elections to prepare turf for 2024", said BJP's Nadia North organizing district committee's spokesperson Sandip Majumdar.
In 2018 party won about dozen of gram panchayat bodies under the Krishnanagar Lok Sabha seat. But, it lost to Trinamul in the ok Sabha seat held the next year. Trinamul's Mahua Moitra defeated BJP's Kalyan Choubey by over 62000 votes largely riding the support of the Muslim vote bank.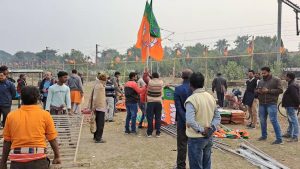 Even though BJP leadership always considers Krishnanagar as its prospective seat since the victory of Satyabrata Mukherjee (Julu)  in 1999 in reality 46% of Muslim voters played a decisive factor against the party. Assembly segments like Nakashipara, Chapra, and Kaliganj where Muslim form around 62% of the electorate, BJP in during the past two decades found it tough to overcome the difference. In 2019 BJP could only achieve a lead in Krishnagar North Krishnanagar South and Tehatta, whereas the four remaining segments made the difference.
BJP's graph witnessed a downtrend in the 2021 assembly polls when the party lost all seven segments except one (Mukul Roy) in the Krishnanagar constituency.
Party insiders said that the local leadership and the workers have been told to forget about the community-based vote bank, and rather focus on the corruption of the Trinamul's leadership.
"We have been told to penetrate the Muslim dominated zones focussing Trinamul's corruptions in housing scheme and the 100 days job scheme of which lakhs of poor deserving people are victim irrespective of community identity', said a BJP leader in Chapra, which played a key role to ensure Trinamul's victory in 2019.
Party sources in Nadia claimed that the top leadership has conveyed a strong warning asking the local leaders to forget the Muslim dominance in Krishnanagar.
"If Lucknow can be won despite a Muslim dominance, why not Krishnanagar…we have been told so…and we are apprehending the same words from Naddaji when he would talk to us after the rally..", a senior BJP leader while busy in preparation of the meeting in Bethuadahari told The NfN.