Kalyani, Jan. 27: The 15th edition of All India Institute of Medical Sciences (AIIMS) commenced operation in Kalyani on Wednesday with limited service to the outpatients six years after the project was announced by the Government of India. AIIMS Kalyani is the first of its kind in Bengal and section in the eastern region after Bhubaneswar.
AIIMS Kalyani was approved under centre's Pradhan Mantri Swasthya Suraksha Yojana (PMSSY), on October 07, 2015 and begun academic activities in 2016 by admitting 50 students for its MBBS course.
The curiosity and eagerness among people to avail premium quality treatment at the AIIMS Kalyani became visible on the inauguration day as they gathered outside the premise in a large number from Nadia and from the neighbouring districts as well, even though they could not visit the outpatient department (OPD) in absence of prior appointment. "There was no clear information to us. We just visited today on the basis of newspaper reports. The AIIMS authority did not issue any advertisement in public interest that apparently that led the harassment", a patient from Bandel who had to return without treatment said.
On the inauguration day only 15 patients could avail the treatment facilities at the AIIM Kalyani located on 179 acre
land adjacent to NH12 connector in Basantapur village after its executive director Ramji Singh launched the service at the OPD by lighting a lamp in presence of students and faculty member.
Speaking to the media persons Ramji Singh said, "It's a great moment for all of us and for people in Bengal. We are committed to provide premium treatment to the people with best possible care".
At present limited OPD service will be offered only at General Medicine, General Surgery, Obstetrics and Gynaecology, Paediatrics, Dermatology, Ophthalmology, Otorhinolaryngology (ENT), Psychiatry for a restricted number of patients", said Singh adding that total 17 departments would be operational at the OPD once more faculties join. The OPD will remain close on Saturday, Sunday and on Central government holidays.
Utpal Pramanik, 43, a security guard of a private agency deployed at the AIIMS premise became the first patient to avail the treatment at the OPD when he visited the general medicine department.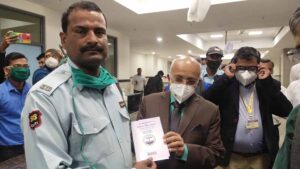 An AIIMS Kalyani official said that patients would have to take appointment in advance for OPD consultation. The institute has developed a mobile application AIIMS Kalyani Swasthya for appointment, which would soon be made functional. However, for the time being the patients can call phone 033-29516005 between 10 am and 4 pm for appointment. Once the mobile app "AIIMS Kalyani Swasthya" is made operational, the patients would be able to get their appointment installing it from Google Play store.
"At present only 100 patients in all would be given appointment for the 8 departments between 9 am to 1 pm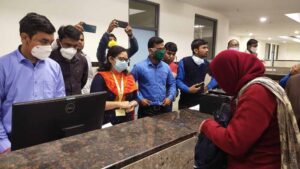 exclusively on prior appointment. With confirmed appointment they will be allowed to enter the OPD for registration paying Rs.10", executive director Ramji Singh said claiming that efforts are being made to make the entire OPD operational by end of May this year.
"At the same time we are trying best to launch the indoor patients' service to a restricted number of patients by September. However, our aim is to launch the in patient service developing the complete infrastructure so that no patient is put in trouble in critical situation", an official said.