Chakdah, Dec. 24:  An angry mob set ablaze a bus that allegedly ran over a motorcyclist while trying to overtake a lorry on NH12 in Panchpota area of Nadia's Chakdaha on Tuesday morning. Local residents turned violent after they found Atab Mandal, 32, a mason by profession, from Uttar Panchpota lying dead in a pool of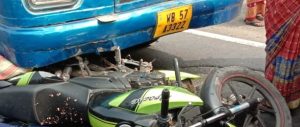 blood being mowed by the bus.
The incident that occurred at about 9.45 in the morning ignited tension as the villagers went on a rampage, set the bus on fire and also ransacked several other vehicles unleashing panic among passengers on the road. They also put blockades and also initially prevented the firefighters and police to reach the spot. The blockade continued for about three hours during disrupted the traffic movement on NH12.
According to the eyewitnesses, the accident occurred when the victim was first hit by a lorry from behind when he tried to overtake it. But as soon as he fell on the road, a Barasat bound private bus from behind mowed him while trying to overtake the lorry running through the wrong lane. The angry residents allowed the police to recover the body only after it assured to take action against the errant drivers.