Santipur, Aug.2: A large number of people living in Nadia staged demonstrations on Tuesday in several places across the district to protest the Bengal government's decision to bifurcate Nadia creating a separate district out of it with the name 'Ranaghat'. The protestors alleged that the new administrative 'Ranaghat' would rob them of their rich cultural heritage that was so far associated with Nadia.
The protestors, in particular, gathered in large numbers in Krishnagar and Santipur town, where they organized a protest march and put blockades on roads to draw the attention of the administration demanding a rollback of the decision which they termed stripping of their pride identity and association with rich culture and heritage of Nadia that once witnessed the emergence of Bhakti movement expounded and led by Mahaprabhu Chaitanyadeva.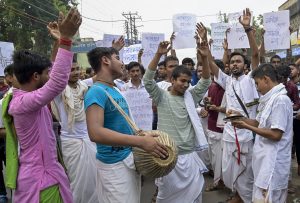 On Monday Chief Minister Mamata Banerjee announced her government's decision to carve out seven new districts out of South 24 Parganas, North 24 Parganas, Nadia, Murshidabad, and Bankura. She told that a new district with the name 'Ranaghat' would be created out of Nadia which ignited widespread resentment among the people living in the district. 
The protest that initially brewing through social media took the shape of a demonstration on Tuesday morning when a large number of people in Santipur town put a blockade at the Daak Ghar More on the station road (old NH), an arterial road in the town condemning the administrative decision. The blockade that began at 8.30 am continued for about 4 hours until senior police officials persuaded them to withdraw it assuring them to take up the matter with the state administration.
Protestors also staged demonstrations in Krishnagar in a similar way demanding a rollback of the bifurcation.
Kaushik Chattopadhyay, a playwright and director who joined the protest in Santipur town said, "It is hard to accept such a division that seeks to wipe
out the name of Nadia and Lord Chaitanyadeva associated with the identity of a large section of the people living in the district".
"For over past one thousand years Nadia remained with a unique identity for its rich heritage, tradition, and culture which cannot be ignored just for administrative compulsion. Creating a new district with the name 'Ranaghat' has not just hurt our emotion, rather it has given us a jolt like robbing our identity", Chattopadhyay told NfN.
Bifurcation order in Nadia district in the past
Sanjit Dutta, a former librarian who has authored many books on Nadia, finds a similarity in the Bengal government's decision with the British Government's Bengal Boundary Commission's bifurcation order of Nadia issued on August 15, 1947.
"In August 1947, Bengal Boundary Commission headed by Sir Cyril Radcliffe had bifurcated Nadia to create Nabadwip and Kusthia district. Kusthia eventually came under East Pakistan (now Bangladesh). But in February 1948, barely within six months, the Indian Government renamed the "Nabadwip" district as "Nadia" respecting the emotion and sentiment of the people. Bengal Government's order is quite similar to that and I hope that history will be repeated once again and Mamata Banerjee will change her decision respecting the emotion of people of Nadia", Dutta told The Telegraph condemning the decision.
On Tuesday members of Santipur Purnima Milony, a cultural organization, submitted a petition before CM's secretariat in Nabanna urging reconsideration of the decision. Rupayan Choudhury, secretary of the organization said, "Being a resident of Nadia we are proud of our association with legends like Advaita Acharya, Chaitanya Mahaprabhu, Bijoykrishna Goswami, Raja Krishnachandra, Poet Dwijendralal Roy, Nabinchandra Sen, and many others, which cannot be robbed of in such a way".
Senior Trinamul leader and former president of WB State Government Employees Federation, Manoj Chakraborty, a resident of Nadia's Chakdah, said, "A bifurcation for administrative reasons is welcome but that not at the cost of wiping out the name of Nadia. District can be divided as North and South Nadia like some other districts".
The anger of the people meanwhile put the ruling party leadership in an embarrassing situation as a number of leaders come up supporting the protest by people irrespective of political and social identities joined. Trinamul's Santipur MLA in a Facebook post stated, "I have already shared the grievances of the people with our Chief Minister… I am hopeful that the state government would take a positive step in this regard".