Krishnanagar, Dec. 9: Chief Minister Mamata Banerjee has announced that an exclusive practice and research centre on Sanskrit language and Indological studies, will become functional from January 1 new year in Nadia's Nabadwip. 
The centre, an extended campus of Calcutta based Sanskrit College and University, which is being envisaged as a "centre of excellence", will be named after Lord Chaitanya, the chief minister said during an administrative review meeting in Krishnagar on Thursday afternoon.
The centre which will officially henceforth be named Mahaprabhu Chaitanya Sanskrit Sanskriti Gabesona Kendra, will focus on high-level studies and learning on Indology, Sanskrit and ancient texts in Pali Prakrit, Apabhramsa as well as research on Indology and Culture allied with History of Ancient India and Bengal. 
Sanskrit, Bengali and English will be the important languages for this centre to work on intensively.
Speaking at the administrative meeting chief minister said, "This is a big project. This is not just associated with education, we will include it to the Nabadwip Heritage city project as well as to Nadia's circuit tourism".
Professor Soma Bandopadhyaya, vice Chancellor of Sanskrit College and University, and in charge of the research centre said, "This is a dream is all set to become into a reality when it will be formally operational from January 1, 2022. This has been made possible only due to chief minister's best sincere efforts".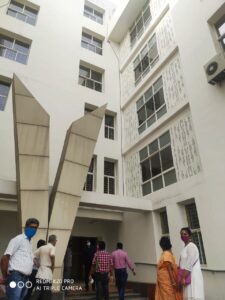 In 2016, Mamata Banerjee responding to an appeal made by the scholars from Nabadwip town had announced the setting up of the research centre. An official of the state higher education department said that the scholars from Nabadwip town, which was once known as 'Oxford of East' for its rich association with studies in the Sanskrit language, have demanded research and practice centre for the language.
Accepting the demand the chief minister announced the project and requested eminent Indologist Nrisinhaprasad Bhaduri to examine its feasibility and other objectives.
Bhaduri later submitted a report recommending setting up of the unique research centre as a centre for Indological studies under the aegis of the Sanskrit College and University. As a result, the centre with five-storied buildings and an auditorium with 1500 seat capacity was constructed in Nabadwip town on a 7 .5 acre land incurring about Rs. 30 crores.
The campus also contains a scholar's block, guest house, staff quarters, canteen and groceries shop.
"The building is ready and set for inauguration. We were waiting for its naming, which has been done today by the chief minister. We are now procuring the furniture. We will make it operational from the New Years day", Centre in-charge Vice-Chancellor Professor Soma Bandopadhyay said.
Speaking about the centre, the VC further said, "There are many institutions across the country which studies the Sanskrit language, but none has such wide scope of research and practice of Indological languages. We can claim it as first of its kind in the country".
"The object behind the initiative is to explore avenues in research activities in Sanskrit, Pali, Prakrit, Apabhransa language as well as in Indological studies which often face barrier due to different reasons. At the same time the centre would portray Sanskrit as the language of modernity that pervades in the realm of science, philosophy, and aesthetics, linguistics and religion with ease", the official added. she said.
"To materialize this we will bring together all the Sanskrit education (Tole) and research units of Nabadwip, the town library containing old and rare manuscripts under a single umbrella", Professor Bandopadhyaya further added.
An official of the higher education department said that the research centre will provide an opportunity to researchers, academics from the country and abroad as well as teachers of Sanskrit College and University to harvest the traditional indic knowledge base and already present in University's repository and at the same time explore new avenues for Indological and Sanskrit studies.