Chakdah, June 29: Armed miscreants with their faces covered by mask blocked Chakdah-Kalyani state highway in the Ishwaripur area with a branch of a tree and looted cash, camera, and gold ornaments worth over Rs.20 lakh from businessmen and farmers when they were heading to different markets on separate vehicles on Sunday night.
In the daring operation that continued for over two hours beginning from about 1 am, the dacoits looted at least 25 vehicles one by one at gunpoint as well as brandishing sharp weapons, while police did not bother to rescue them despite repeated calls by the distressed businessmen.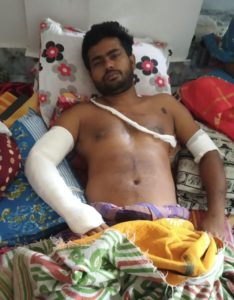 At least five persons were injured in the incident and one of them, Sohrab Mandal, a professional photographer, had to be hospitalized since the dacoits fractured his left arm and a leg beating him with iron rods since he refused to give his digital movie camera worth Rs.2 lakh to the dacoits.
The incident sparked anger among the businessmen and villagers who blocked the busy Chakdah-Kalyani road for over an hour on Monday morning demanding the arrest of the miscreants. The blockade, however, was withdrawn after police assured them to arrest them at the earliest possible.
Chakdah police have started a case on the multiple complaints, but it could arrest mone till late Monday evening.
Superintendent of Ranaghat police district VSR Ananthnag said, "All efforts being made to arrest the miscreants involved in the incidents. We have got some clues and quite optimistic to nab them soon".
Local residents alleged that the absence of night patrolling by police on the road has encouraged miscreants to act in a daring manner.
"A number of dacoities occurred on this road stopping vehicles. But police patrolling stopped it. Now with a decrease in patrolling it appears that dacoits are back on the road which is extensively used by businessmen to reach Hooghly district and Durgapur Expressway through Kalyani", said a businessman in Ishwaripur.
Saddam Mondal, a farmer who was going to a wholesale market in Sheorafuli to sell vegetables, said, "The miscreants stopped our vehicles and asked to hand over cash and valuables. I have Rs.8000 with me which I compelled to handover at gunpoint. The miscreants looted us one by one in two hours. But no police was seen during the period despite repeated calls made by senior businessmen".
SP Ranaghat VSR Ananthnag, however, refuted the allegations. "Chakdah police acted well in time and rushed to the spot".
Sukur Ali Mondal, secretary of Ishwaripur Traders Association said, "I called the OC Chakdah on at least six times. But he disconnected the call. He responded only after a member of Chakdah central traders' organization called him being informed by me. He then sent two constables and two civic volunteers who mutely watched the miscreants absconding"