Krishnaganj, Sept. 15: A BSF constable suffered a fatal injury on his head inflicted by a sharp weapon, and another sustained an injury on his right shoulder when a group of smugglers attacked them being prevented from smuggling a large consignment of contraband cough syrup to Bangladesh.
The BSF team attached to Battalion-54 arrested one of the armed smugglers, an Indian National, while at least 8 others managed to flee amid the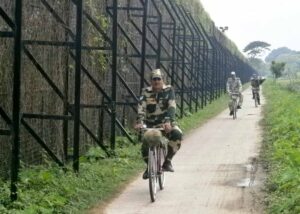 darkness. BSF team seized 504 bottles of the contraband cough syrup worth around Rupees 1.03 lakh, which has a high demand in Bangladesh as a seductive. The confiscated cough syrups and the nabbed smuggler were handed over to Krishnaganj police station, which started a case on the basis of a complaint lodged by BSF authorities.
The ghastly incident occurred near the Matiary border outpost in Nadia's Krishnaganj late on Wednesday night. The two BSF constables identified as Ramcharan Chowdhury and Manjit Kumar were admitted to Krishnaganj block hospital. Nabbed smuggler identified as Jahangir Mondal also suffered an injury to his own sharp weapon during the scuffle and was admitted to the same hospital.
BSF sources said that the constable Ramcharan Chowdhury despite being fatally injured had nabbed one of the attackers and continued to hold him strong even after the miscreant had bitten his arm and also further injured his ring finger of the right arm in a bid to escape with the contraband cough syrup.
Constable Manjit Kumar while trying to prevent the smugglers attacked with sharp weapons. "He suffered an injury on his right shoulder…It was an attack on his life…But he managed to save himself at the last moment but suffered an injury on the shoulder", a BSF official said in Nadia.

BSF sources said that alerted with intelligence input a BSF team laid an ambush near the Matiary border outpost. "We came to know that notorious smuggler Milan Mondal would lead a gang to smuggle huge quantities of Phensedyl to Bangladesh through the Banpur area. At about 9 pm we noticed movements of suspected smugglers close to the fencing as they were approaching the Bangladesh side. We challenged them. But they began pelting stones. But our jawans gheraoed them when the smugglers who were 9 in numbers attacked our jawans with sharp weapons. Our jawans with much patience handled the situation despite two of them suffering fatal injuries. Eventually one of our personnel fired pellets using his non-lethal gun to rescue his two colleagues", a BSF official of 54 Battalion said.
A spokesperson of BSF's South Bengal Frontier in Calcutta said, "Smugglers had a motive to kill our jawans. But our jawans come out as brave hearts that fought strong despite injuries and prevented the smuggling attempt".