Santipur, June 19: A group of students from Santipur has started putting up nests in the trees since a large number of it was damaged due to the Cyclone Amphan that wreaked havoc uprooting many trees across the state on May 20.
The students, who formed Prayas, a nature care organization, have planned to make over 1000 artificial nests made of natural materials like hay, grass, coconut, and jute fibres as well as earthen pots which they would put up to encourage birds to stay there and breed as well.
The initiative was launched on Tuesday when the students' group visited Sutragarh char and Ramnagar char where they put at least 30 such nests on different trees.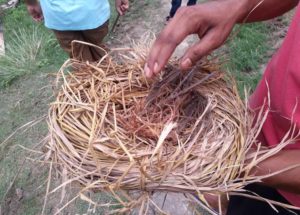 Prayas member Prodyut Mahalder, a final year B Ed student of a private college said, "The birds are seriously suffered due to the Cyclone Amphan. Many birds lost their nests, their eggs were damaged as a large number of trees where they used to live were uprooted or branches are broken. So we decided to make artificial nests and to put in trees in an attempt to draw their attention so that they are interested to stay there".
"It is breeding time of many varieties of local birds, who are literally become homeless since the Amphan wreaked havoc. Many birds have been struggling to find natural nesting sites. So we are trying to put nests at suitable places in trees to encourage birds for breeding", Mahalder added.
In an attempt to woo the birds, the Prayas members trying best to make the nest natural as far as possible and using natural materials.
"We have samples of nests of birds which are mostly seen locally. We have examined those nests and trying to weave it like them as far as possible using eco-friendly materials to fascinate the birds seeking nesting space. At the same time, we are also using earthen pots as it can save the newborns better from predators and pollution", said Pabitra Pramanik, another member and a BA second-year student of Santipur College.
The students have been spending around Rs.30 for each of the 1000 nests which they have been garnering through personal donations and from other nature lovers.
Environmentalists and officials of the state forest and wildlife department have welcomed the initiative of the students. "They have undertaken a great job. If the birds cannot breed, a generation of many locals birds like sparrow, myna which are now rarely seen will be near extinction", an officer of the state forest department said.