Santipur, Aug. 31: Amid allegations of graft charges and corruption against a number of senior leaders of the Trinamul Congress that caused sheer embarrassment to the leadership, the party ruled Santipur civic body authorities on Wednesday told the housing scheme beneficiaries in the town not to pay any money even if any ruling party leaders insist or demand so exploiting his party position.
The Civic authority has also been planning to open a grievance cell to receive such complaints if the situation requires it.
Santipur Municipality chairman Subrata Ghosh in categorical terms told the beneficiaries, "Tell them No boldly….and inform us..We need your support to stop corruption".
Ghosh told the beneficiaries of the housing scheme at a first-of-its-kind "transparency awarenesses" meeting organized formally at the Public Library hall that aims for proper utilization of funds.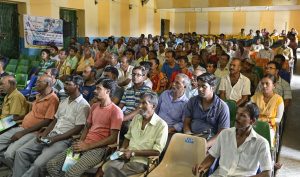 Around 1800 beneficiaries were invited to the two days sessions which were primarily arranged to appraise them about the basic rules and regulations – the Dos and Don'ts of the scheme. The beneficiaries were given a booklet and shown a video about the proper ways to execution of their residential building for which they would get Rs.3.68 lakhs in five installments.
But the event apparently turned out to be a confession of graft, while adopting steps to avoid any possible embarrassment in the future.
"Certain recent incidents have opened our eyes. These incidents caused immense embarrassment to us. So it is a careful initiative on our part to avoid such possibility in future making people aware", Ghosh said.
Speaking to The NfN, he said, "Mamata Banerjee has been trying to function with transparency. All fingers are not the same. We have been doing our part …honestly and transparently".
At present, a beneficiary of Centre's Pradhan Mantri Awas Yojana, which the Bengal government renamed as "Bangla Awas Yojana", gets Rs.3.68 lakh to build a home.
However, a beneficiary has to make a small own contribution of Rupees 25000.  The centre pays Rupees 1.50 lakh and the state government bears Rupees 1.93 lakh. But beneficiaries under the scheme often alleged that they never get the full amount as a section of ruling party leaders involved in the local administration, like gram panchayat and municipality siphon a part.
Santipur Chairman Subrata Ghosh said, "We told them not to be influenced by anybody…be it even our party leaders…Never pay any amount..never be trapped by anyone to get the work executed by contract. It is your money…your home and get it done by yourself by engaging laborers and masons….for technical support our engineer will help you…I told the beneficiaries".
"If anybody demands any money from you do inform us..lodge a complaint with police", he added further.
Chandu Seikh, a Mason by profession and a beneficiary said, "I heard that from old beneficiaries they compelled to satisfy party leaders paying them money…But today chairman's words sound different….it is a ray of hope for poor people like me…".
A BJP leader in Nadia termed the initiative as a "desperate attempt" to clear the blot of graft. "It is good that making such announcement Trinamul leaders in real term confessing their crime and corruption", the BJP leader said.