Chakdaha, Jan. 11: Much before chief minister Mamata Banerjee's decision to opt out of Ayushman Bharat scheme which she announced on Thursday in Krishnagar, the Trinamul Congress activists had started preventing postmen to deliver the letter of Prime Minister Narendra Modi addressed to the enrolled beneficiaries.
For about last two months Trinamul Congress activists in several parts of Nadia are not allowing the postmen to deliver Prime Minister Narendra Modi's letters outlining the importance and benefits of centre's flagship health protection scheme officially titled as Pradhan Mantri Jan Arogya Yojana (PM-JAY) to huge number of beneficiaries apparently apprehending that it could woo them in favour of BJP.
Modi letter includes the family card for the scheme containing the details of family members incorporated to the scheme with their year of birth and gender along with individual QR codes.
In the letter part prime minister spoken about the role of the Nation in empowering its citizens and has also appraised about some other welfare schemes like Pradhan Mantri Awas Yojana, Souvagya Yojana, Ujjwala Yojana, Jan Dhan Yojana while giving an outline of PM-JAY.
But, the Trinamul workers identified it as potential 'threat' to their support base and began prohibiting its delivery in several areas of Nadia.
Officially, the leadership claimed that the party against the scheme because it did not recognize state's role, which additional chief secretary of Health Rajiva Kumar in his letter to Union Ministry of Health and Family Welfare pointed out on Thursday.
Senior Trinamul Congress leader in Nadia and president of Chakdaha Panchayat Samity Haraprasad Halder, where most of the incident of prohibitions reported, said, "Some of our party workers had first pointed out that there is no recognition of the state government's role in the letter addressed by Prime Minister. The PM-JAY has different titled in our sate unlike others state, but the letter identifies the centre scheme only. So our workers stopped its delivery".
"But after chief minister's announcement to quit we are no more concerned…The scheme cards have no validity in Bengal anymore", Halder added.
But, a Trinamul worker in Chakdaha had a different interpretation. "We were told that Modi's image with detail outline of several central schemes may fascinate people towards BJP. So our objective was to prevent its delivery so that it does not enter local households".
On Friday chief minister reiterating her objections stated in Barasat, "The centre hatched a conspiracy using a health insurance, which I thwarted. They sent cards to people ignoring us, but I have made those cards invalid".
In his letter to centre appraising state government's exit from the scheme Rajiva Kumar, additional chief secretary of state health stated, "To our surprise the entitlement letter/card issued by your Ministry mentions the name of the scheme as PMJAY which is not only a violation of the stipulation of the MOU, but has created unnecessary confusion".
The Bengal government initially opted out of the scheme, but later signed an agreement to implement the centre's scheme as a joint initiative merging its existing scheme "Swasthya Sathi" scheme under new name titled 'Ayushman Bharat-Swasthya Sathi", which is not indicated in the letter.
An officer in Swasthya Bhawan in Calcutta said, "The letter speaks only about the PM-JAY, which is not implemented in Bengal in its original format like in other state. We would have probably no objection had it incorporate the new name 'Ayushman Bharat-Swasthya Sathi".
An official said, "This anomaly was also brought to the notice of Delhi, but they ignored.
Party insiders said, the anomaly was noticed around two months ago and the message was conveyed to prevent the delivery without any hue and cry.
As a result Trinamul workers started prohibiting postmen to deliver letters in several areas. In Chakdaha, Nabadwip, some postmen were also threatened by angry Trinamul workers which prompted them to dump bunch of letters at many post offices.
Repeated incidents of such prohibition by had created resentment among the postmen as many failed to meet the deadline of delivery.
A postman in Chakdaha who was prevented in Tatla area said, "The Trinamul workers threatened and tried to snatch bunches of letter from me. This occurred in a number of occasions with me and other postmen. This resulted many letters remained undelivered as higher authorities took no action".
A post master said, "We appraised higher authorities about the Trinamul's resistance. But, we were advised to go slow without making it big issue unless physically attacked".
An officer of Kalyani circle of postal department said, "We were reported of Trinamul workers' threat to postmen…But there was no formal complaint. However, the prohibition delayed delivery of huge quantity of letters".
After launching the scheme, the centre decided to send letters to all the beneficiaries across the country outlining the scheme details as a ready reference.
The Ayushman Bharat scheme, a National health protection scheme, launched during September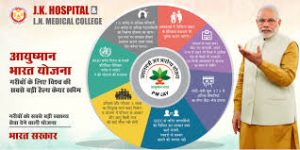 last year and later renamed as Pradhan Mantri Jan Arogya Yojana (PM-JAY) aims to reduce the financial burden on poor and vulnerable groups arising out of catastrophic hospital episodes and ensure their access to quality health services. The scheme will cover over 10-crores deprived rural families and identified occupational categories of urban workers' families as per the latest Socio-Economic Caste Census (SECC) data who will get a benefit cover of Rs. 5-lakh on family floater basis. 
Initially Mamata Banerjee's government refused to join it as it had its own Swasthya Sathi scheme. However, it later agreed to join the scheme merging the Swasthya Sathi with Ayushman Bharat scheme that helped to increase the coverage from Rs.1.5 lakh under Swasthya Sathi to Rs 5 lakh. This also brought around six crores beneficiaries in Bengal under the scheme increasing the beneficiaries from 47 lakh under the Swasthya Sathi scheme.
The district BJP leadership, however, found nothing unusual behind Trinamul's attack on postmen.District BJP (North) committee president Mahadeb Sarkar said, "It is quite natural for a party which earlier changed PMGSY into Rajya Sadak Yojona. This proves that Trinamul is afraid of anything with which centre is associated. I have seen the letter and nowhere in it the centre or the BJP claimed any credit or conveyed any political statement. Nevertheless, Trinamul misled people only for sake of its political opposition"