Santipur, June 24: 33 year's Anupam Sarkar of Nadia's Santipur is all set to make an attempt for entry to Guinness Book of World Records for a cause. The young professional comedian has been making the world's largest string of apple seeds to make people aware of its poisonous ingredients.
Apple seeds contain Cyanogenic Glycosides and Amygdalin, which is mild cyanide and could be lethal if chewed accidentally in good numbers while eating apples.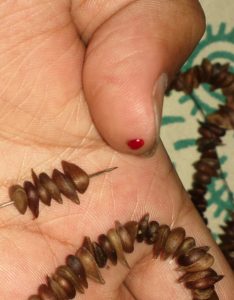 Anupam said, "We often become careless and swallow the apple pips while eating the fruit. The hard coating of the seed saves us. But if the seeds chewed accidentally it would be a horrible affair. So my aim is to make people aware of its fatality".
In her last Hindi movie 'Mom', Bollywood actor Sridevi playing the lead role as 'Devaki', a mother and a Biology teacher killed the villain Charles (who raped her teen aged daughter) by mixing crushed apple seeds in his fitness powder. Charles consumed the powder and gradually paralyzed due to the poisonous effect of the apple seeds on his body.
A physician said, "The apple seeds contain Cyanogenic Glycosides and Amygdalinthat release cyanide when it comes into contact with human digestive enzymes".
Many doctors, however, claim that acute toxicity is rare if one accidentally chew one or two seeds. But, this could be lethal if chewed and swallowed regularly even in small numbers.
Nevertheless, Anupam's objective to make awareness. "My objective is to attempt a world record for a cause. I hope my endeavor would make people careful while eating apple".
In this endeavor, Anupam has already weaved around a 500-meter string of apple seeds to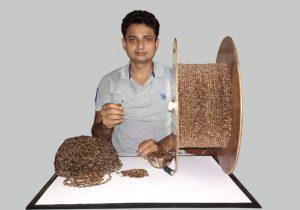 challenge existing Guinness world record holder in the category Zdzislawa Szydlowska of Poland who weaved 250 meters (820.2 ft) string on May 2001. He would make a public display of his effort in an awareness meeting at the Public Library ground in Santipur on June 30 where officials from state administration will attend as the witnesses. "I will display my work before people in presence of government officials, make people aware of the negative side of apple and send evidences to the Guinness Book of World Records authorities', Anupam said.
Speaking about his unusual endeavor, Anupam told NfN Network, "Weaving the string of seeds is a very difficult and risky job considering the poisonous content. I took the utmost care while weaving the string using cotton thread so that the needles do not come in contact with my body. I have used 10-kilograms of apple seeds and at least 40 hand needles to make the string. The needles were sterilized after every use".
In last year Anupam entered the Guinness Book of World Records for making the longest 'Staple Chain' of 554 meters. He made 554-meter long staple surpassing the earlier record made by USA's Mackenzie Martin who made a staple chain of 352.67-meter on June 14, 2016.