Krishnanagar, Feb. 13: In the wake of murder of Trinamul's Krishnaganj MLA Satyajit Biswas, Nadia district police administration has asked the cops to don khaki uniform while performing duties as personal security to the MLAs and MPs in the district.
The district police administration has issued a circular this week following the guidelines of the state home ministry in which the cops engaged as personal security have been directed to do their duties in their uniform so that their presence is visibly felt.
The circular also categorically stated that any leniency in duty and that too without the khaki will be dealt with strongly. At the same time, it has instructed the cops not to proceed on unauthorized leave creating security risk of the MLAs.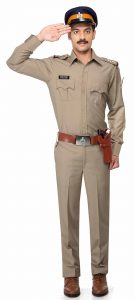 A senior police officer said, "The cops in uniform make an impact with their presence which is quite essential for the cops engaged in security job. But, it has become habit to accompany the VIP in casual uniform which is very risky".
The district police have reviewed the security arrangements of 16 Trinamul MLAs in the district and taken up precautionary measures.
Nadia superintendent of police Rupesh Kumar, however, refused to divulge any details about the new arrangement. He said, "Such information cannot be shared'.
However, insiders at district police administration claimed apart from reviewing the security measures,  police authorities have requested the MLAs as well as some party leaders whose security is quite vulnerable, to appraise the local police stations about their movement well in time.
"We have also told them not to encourage the security staff to go on leave without any substitute. Any unofficial arrangement without knowledge of police administration might even cost their lives as it happened in case of Satyajit Biswas and Dulal Biswas", a senior police officer said.
Meanwhile on Tuesday police have provided personal security to at least five Trinamul leaders in Krishnaganj and Hanskhali block which include one the two brothers of slain MLA Satyajit Biswas.
While police made their own arrangement to provide security of Trinamul MLAs and other leaders, some meanwhile enquired about the "modalities" of possessing personal fire arm.
"A number of Trinamul leaders asked us to know how they could procure personal arm after the MLA murder. We explained them the legal formalities", a police officer said.