Krishnanagar, May 20: At least six persons including a woman died in Nadia with 15384 houses were completely damaged as cyclone Amphan wrecked havoc making a landfall in the state on Wednesday night.
Two 24 Parganas and two Midnapore districts, however, suffered mostly due to the super cyclone which also battered by rain at the same time.
The gusting speed of the cyclonic wind uprooted several trees, spoiled a huge amount of agricultural productions and damaged electric poles causing prolonged power cut in the district.
WBSEDCL sources claimed that it would take atleast 3 days to restore normacy in power supply. Officials claimed their infrastructure duffered extreme damage and at present they have been on priority basis trying hard to restore power supply at the emergency facilities like hospitals as well as Covid care units like quarantine and isolation centres apart from water supply units.
Chief Minister Mamata Banerjee on Thursday claimed the total toll in the state as 72, while figuring out the financial damage as ₹1 lakh crore.
She along with Prime Minister Narebdra Modi would make an areal survey of the Amphan affected zones in the state on Friday afternoon. The Chief Minister would held a special administrative meeting later in Basirhat town with the officials of the North and South 24 Parganas district officials.
According to official sources, out of the 6 persons died in Nadia, 4 hailed from Kalyani sub division and 1 each from Ranaghat and Krishnagar sadar sub division.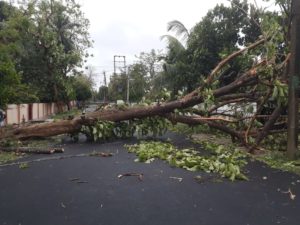 Ratan Sarkar of Narayanpur, 70 and Arun Biswas, 50 of Ghentugachi in Chakdaha died when trees fell on their huts during the cyclone. While the later died on the spot, Ratan Sarkar succumbed to injuries at JNM Hospital in Kalyani. In Ghoragacha of Kalyani Kena Mandal, 54, died when a wall collapsed on him. In Palpara of Chakdaha Balai Pal died apparently due to a panic attack during the cyclone. In Radhanagar of Krishnanagar Narendra Nandi, 71, died when a wall collapsed on him following a uprooted tree fell on it. In Gourisail village of Gangnapur Minati Burman died after she was struck by lightening during a thunder storm.
An officer of Nadia's Amphan control unit  said that 38054 houses were partially damaged, whike 3362 persons were rescued and shifted to safe shelter.
An officer of the district administration said that all the victims of Amphan will be paid compensation as announced by the chief minister in Nabanna later on the day.
Meanwhile, after a reliminary assessment Nadia administration has figured out the amount of agricultural loss in financial terms as ₹777 crore.
District Magistrate Bhivu Goel said, "Loss of jute is maximum. Jute production on 85009 hectar land was seriously damaged. Vegetables damaged on 35258 hector agricultural land followed by Banana on 9977 hector land and paddy on 7000 hector land".
The other major damaged agriculture and horticulture produces lso include corn, maize, rice, flowers, betel, mango, litchi