Santipur, Aug. 13: Two friends from Nadia's Santipur responding to a facebook post have reconstructed a dilapidated residence of an eighty-five-year-old woman and rehabilitated her there on Sunday.
For ailing Saraswati Guin of Santipur Rajputpara, it was sort of 'Griha Prabesh' as she entered her new looking home holding hands of Biswajit Roy and Subrata Moitra who converted her uninhabitable house into a better one.
To make her stay comfortable, Biswajit (37), a contractual non-teaching staff of Santipur College and Subrata (43), a medicine shop owner have also arranged for a solar lighting system in the 'new' home. Moreover, as she has no source of income, they have also vowed to bear her medical expenses and food as far as possible.
Biswajit said, "This is the minimum arrangements we have tried to ensure to keep the ailing woman alive with little comfort using our limited resources".
In July we saw a facebook post of one Krishnendu Banga who urged people to come forward to help Saraswati Guin to make her living a better one.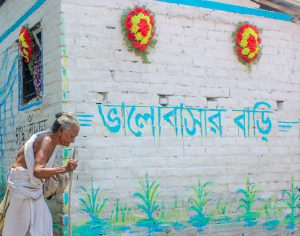 Subrata said, "We saw the post and one day visited the woman's home. We found her living in a horrible state. The walls are damaged. The corrugated sheet put as the roof has developed numerous holes through which rainwater enters making the inside unhealthy. People from adjacent areas also throw garbage near her home making it unhealthier. She passes her night in darkness as neither she has electricity nor capacity to afford even a kerosene lamp. She has also no toilet and attends nature call inside the room"
"So we decided to make her living conditions a better one", Subrata added.
The two friends during the last one month engaged laborers to renovate Saraswati's home and eventually provided a new look. They also named it as "Bhalobasar Bari" and planted a few saplings there too. They also made a toilet for her and put solar lamps in it.
"We tried as far as possible…but urged the local people to take care of the woman and to provide her food. We will bear its cost too", added Biswajit.
Local sources said Saraswati got married to a weaver in Nabadwip at her early age. Around 45 years ago, her husband died when she had to come back to her paternal home in Santipur with four children. However, three of them died later. The only surviving daughter Minati Dalal, now a widow in her 60s, lives in a neighboring village with poverty.
Minati who came on Sunday to meet Saraswati, said, "It pains me a lot that I could never come to her support due to poverty… I am very happy today that people have come up to help my mother.
Saraswati said, "These two men provided me a new lease of life today'.
Local councilor Bivash Ghosh who also attended Saraswati's 'Griha Prabesh" assured ration and other facilities for her survival.