SUBROTO DAS
Swarupganj, Sept. 22: Sri Saraswat Gaudiya Vaishnava Sangha, an assemblage of 55 Gaudiya Mutts celebrated 181st holy appearance day of Srila Sacchidanand Bhaktivinod Thakur, most prominent Acharya of Gaudiya Vaishnava society, at Surabhi Kunja   in Nadia's Swarupgunj on  Saturday.
The Gaudiya Vaishnava saint Srila Bhaktivinod Thakur is credited to have identified the exact birth place of Sri Chaitanya Maha Prabhu at Mayapur, Nadia in 1888. As a result of his immense hard work and thorough research he is attributed to have revived the teachings, literature on Vaishnavism and places of spiritual relevance which were lost with passage of time.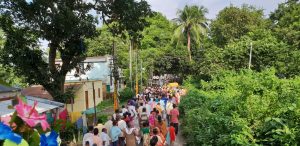 Around ten thousand devotees across the country and abroad associated with various Gaudiya Mutts and International Society for Krishna Consciousness attended the festival.
The celebration began with Bhajan at 9 am, followed by discourses by senior monks on the life and teachings of Srila Bhaktivinod Thakur. Later in the afternoon a grand procession carrying the "Sri Vigraha" (deity) of Srila Bhaktivinod Thakur on a beautifully decorated chariot was taken out from Bhakti Vedanta Arogya Ashram Jagannath temple in Swarupgunj to the bhajan kutir of Srila Bhaktivinod Thakur.
Large number of devotees from across the globe performed ecstatic Harinama Sankirtan circumbulating the deity throughout the 3 km stretch to Bhajan Kutir, informed Tapar Swami, spokesperson of the Sangha. The young devotees rendered soulful dance drama on the illustrious life of Acharya Bhaktivinod Thakur to mark the auspicious occasion.
President of Saraswat Gaudiya Viashnava Sangha Srimad Bhaktivedanta Avadut Maharaja said, "The objective of organising this festival was to inculcate feeling of love and compassion for every living being which is the philosophy of Sri Chaitanya Maha Prabhu. Srila Bhaktivinod Thakur institutionalised the Vaishnava culture which was limited to few households before his endeavour. It was he who made proper understanding and observance of Maha Prabhu's teachings those act as the perfect remedy to all the problems that human race is facing in this world".
Srila Bhaktivinod Thakur had an accomplished career. He began as a teacher in rural areas of Bengal and Orissa. Later he became an employee with the British Raj in the Judicial Service. He retired in 1894.   
An official of the sangha said, Srila Bhaktivinod Thakur was an erudite scholar and penned more than 100 books in Bengali, English, Urdu, Sanskrit. "He envisioned the spread of Gaudiya Vaishnavism in foreign land in the 19th century.  He had  predicted that in near future the Germans, French, Englishmen will play "khol",  "kartal" and will perform Sankirtan with Bengali devotees at Mayapur Dham", the official added.
His dream was realised when His Divine Grace A.C. Bhaktivedanta Swami Prabhupad went to foreign land and started ISKCON in 1965 at New York. As a result of his preaching today Sri Chaitanya Maha Prabhu's philosophy of Sankirtan has sprouted across the globe.