Krishnanagar, Aug. 17: 59 year's Majid Seikh, head cook at Krishnagar Circuit house in Nadia can still recollects how he felt a dilemma to plan food for Atal Behari Vajpayee for his one night stay in the town during a poll campaign in September 1999 when he was the caretaker prime minister after collapse of his 13-days's government. However, Majid was lucky to overcome the dilemma as Vajpayee enjoyed the food and praised his culinary skill.
In absence of any clear instructions from administration, Majid with much confusion offered traditional Bengali vegetarian delicacies in the main course and Doi, Sarpuria, Sarbhaja as desert. The food made him so happy to be curious about the cook. Before leaving, when Majid approached him to share his experience on the visitor's book, Vajpayee wrote, "enjoyed the stay" with his trade mark smile.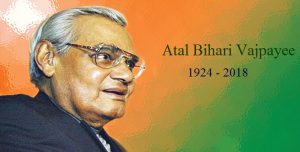 Majid had also an opportunity to offer food to Vajpayee earlier during 1996 at the same circuit house. But, he could not recollect the details of the visit. "It was a transit visit for about three years when he took tea and light food, which was not satisfying experience as a cook", said Majid, who is attached to the circuit house since 1975.
During April 1996, Vajpayee came to Krishnagar for the first time as an MP, on his way to Murshidabad, barely a month before he became tenth prime minister on May 16, 1996.
But, his second visit in 1999 to Krishnagar is still alive in Majid's memory. "For me it was a long cherished dream to cook food for him, which is still fresh in my memory"
On September 27, 1999 Vajpayee arrived Krishnagar to campaign for BJP's Krishnagar candidate Satyabrata Mookherjee, five months after his government fell when NDA partner AIADMK withdrew support on April 17, 1999. However, as the disintegrated opposition failed garner enough numbers of MPs to form the new government, the Loke Sabha was dissolved with Vajpayee remained the caretaker prime minister until fresh elections were held.
Majid said, "He came on September 27 evening and left for Delhi next day after addressing a rally early in the afternoon".
"I was so much excited when learnt that Vajpayee would stay at 'Bhagirathi' at the old circuit house complex, because to me he was the epitome of secular India. But, I was little confused when told that I have to plan the menu for him for dinner, breakfast and lunch. I was told that he was a vegetarian, which I found wrong later. So it was a big dilemma for me to plan food. Nevertheless, I decided to offer him Bengali delicacies".
"I can still recollect that his convoy arrived at the circuit house at about 7pm. He began with milked tea. Some BJP leaders told me to arrange dinner at 9.30pm. I offered him a combination of Rice, Roti, Moog Daal, Crispy potato, Mixed Veg curry, Chhanar Daalna, Cauliflower curry, Chatny. In desert I kept Krishnagar's special Sarpuria and Sarbhaja. On next day in the lunch I added Parwal dorma, Paneer Posto, Doi, Rasgulla, Sarpuria and Sarbhaja. He ate everything much immense pleasure", Majid recollects.
"Some BJP leaders later told me that he praised the food and enquired about the cook. So when he was leaving I gained courage and offered the visitor's book to write his experience. He entered his name, address and remarked 'Enjoyed our stay, thanks'.
Recollecting the day BJP's National executive member Satyabrata Mookherjee, for whom Vajpayee came to campaign, and later became Minister of State for Chemicals and Fertilizers as well as minister of Commerce and Industry said, "For me it was too a special occasion as a prime minister came to campaign for me. He was happy with food and inquired about me about the local history".