Krishnagar, March 17: A sudden invasion of Rugose Spiraling Whitefly (RSW), a species of pest largely on coconut trees has unfolded a sort of fresh panic among the residents in several parts of Nadia and North 24 Parganas amidst Covid 19 threat.
During the past three days, a huge number of coconut trees leaves turned white due to the pest attack which many villagers think occurred due to an effect of the Covid 19 attack.
However, agriculture scientists said that come up to assure people that it is not a Covid 19  'syndrome', rather an attack on coconut trees by a pest, a type of whitefly that sucks out under surface leave causing major damage to the plant.
Sources in the state agriculture department said that the fly belongs to the Hemiptera group, which is for the first time noticed in the state early this year, however, it was earlier seen in Kerala and in Tamilnadu in 2016 and lately in last month.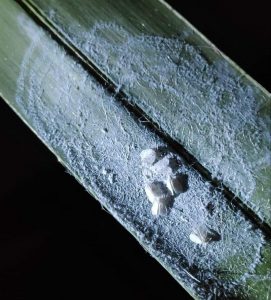 Nevertheless, the panic among the villagers in several areas in Nadia district spread in such a way on Monday night that people came on streets leaving their homes in fear.
"It seemed quite horrific as I witnessed a huge coconut leaflet turned pale white barely within an hour. It spread so fast that people become panicked of unknown virus attack", said Kajal Basak a resident of Phulia in Nadia.
Sources said a large number of coconut trees were infected due to this pest attack in Nadia. Similar reports were also received from North 24 Parganas. A section of the farmers made contact with the scientists at the Bidhan Chandra Krishi Viswabidyalaya for a remedy for the new danger.
A professor at BCKV said, "The whitefly sucks the coconut sap extensively leading to excretion of honeydew which subsequently gets deposited on the upper surface of the leaves. Honeydew excrement, being sweet and watery, attracts ants and encourages the growth of the fungus which causes disfigurement of hosts' leaves affecting the photosynthetic efficiency of the plant".
However, the agronomists claimed that such deposition does not affect the production. "A recent study conducted in south India where coconut is largely produced has revealed that despite the heavy incidence of whitefly on coconut, it does not practically cause any crop loss. The farmers should, therefore, feel panicked over it", an agronomist associated with the state agriculture department told The NfN.
A scientist in BCKV said, "We have heard about the invasion of the mysterious whitefly a few months ago and informed the agriculture department for prescribing a control module. However, nothing has so far been done to get rid of this new trouble"
"We have, however, advised the farmers' neem and tobacco leave based pesticides to use as a spray", he added.