Gede, Oct. 13: The suspension of the issue of tourist visas for over the last two years to the Bangladeshi Nationals who like to make walk-in access to India through the Darshana-Gede check post has put a few thousand people in Gede in a survival crisis.
Employees of money exchanging companies, who work near Gede check post, their family members, and local businessmen, who earn a living directly or indirectly due to visits of a few thousand Bangladeshis on regular basis, have threatened to block Dhaka-Calcutta Maitree Express on October 29 to protest against the non-issue of tourist visas.
Money exchangers and other local people have alleged that the non-issue of tourist visas by the Indian authorities even after the Covid pandemic has stopped the ways to earn their living.
The Gede land port was closed due to Covid on March 23, 2020. It was opened in September last year. But walk-in entry for Bangladeshi Nationals, except patients and students was denied.
Members of the Gede Land Port Society, an organization of money exchangers and local traders, have made a written request to the Indian Foreign Minister S.Jaishankar to allow visas to Bangladeshi through the Gede land port. But, centre is yet to make any response to the appeal.
Federation of Associations of Small Industries of India (FASII) also last month made a written appeal to Meenakshi Lekhi, junior foreign minister to allow Bangladeshi people to enter India through Gede. But, centre has yet to issue any nod whereas it has been issuing the same tourist visa to the people who would like to enter India by traveling the Maitree Express.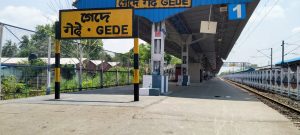 Members of the Gede Land Port Society termed this as a 'double standard' in centre's policy. "Most Bangladeshi people prefer the Gede route since they cannot afford the expensive Maitrey Express train journey. Reaching Calcutta from Gede barely costs Rs.30 for them. So non-issue of visa has also put the Bangladeshi people in a problem like us", a money exchanger said.
So finding no way out,  Gede Land Port Society members decided to disrupt the Maitree Express service from October 29.
"We have shown enough patience during the past two years. We accepted the suspension of the visa due to the Covid situation. But things are now normal…so how long should we suffer? Disrupting Maitree Express service is the only option left before us to draw the attention of the Government of India", organization president Dianabandhu Mahaldar, who owns a money exchange company in Gede told The NfN.
Sources said that Bangladeshi counterparts of the Indian money exchanger have also begun a movement on the other side of the border demanding issue of visas.
Apart from Petrapole land port in North 24 Parganas, Gede check post work as the cheapest passage for people of at least 15 neighboring Bangladeshi districts to enter India. Around 2500-3000 Bangladeshi nationals used to enter India through Gede land port after walking past the Darshana check post in Bangladesh. In absence of visa access, through Darshana-Gede, the Petrapole land has been experiencing a huge rush of Bangladeshi tourists every day leading to a long time waiting in the queue for immigration clearance.
"These Bangladeshis used to help us to earn our bread. An employee of a money exchange company two years ago used to earn Rs.8000 to Rs.10000 per month. But for over the last two years, they have no job…some people have begun to work as farm labor, whereas there are many who have been still fed by their employers expecting resumption of visa service", Mahaldar said.
A Bangladeshi National from Chuadanga while waiting at the immigration counter at Petrapole on Thursday said, "I had to travel over 100 km to reach Benapole to enter India through Petrapole. It is quite a dishonor for us".
FASII's Executive Secretary S.Pandiraj said, "The government should issue visas to the Bangladeshi people to enter India through Gede as it has always been done since the Independence. Around 2000-3000 people enter India every day through Gede for business, tourism, and medical purposes, which facilitate trade and commerce between the two countries, and the micro and small enterprises are enormously benefitted from this".