Santipur, May 21: Amit Ghosh and Moumita Ghosh, a newly married couple from Nadia's Santipur marked the reception of their wedding ceremony on Friday by distributing meal packets to over 100 needy persons who have been suffering a survival crisis due to the Covid situation.
Amit, 37, a contractual worker of Santipur Municipality who tied marital knot with Moumita of Nakashipara on Thursday night in presence of a handful of persons, decided to cancel their restricted 'reception' party with limited guests as planned earlier, instead they distributed the food packets prepared by the caterers among the needy persons.
After arriving in the Santipur town through a solitary boat ride over the river Hooghly from Sibpur ghat of Nakashipara, the couple went to their Sutragarh home for brief rituals. Later with the support of their friends, they began distributing the food packets among the needy persons by roaming in the town in their wedding attire.
"We decided to call off the low key celebration which we planned complying with the government order amid the extended restrictive measures announced by the state government. We changed our minds realizing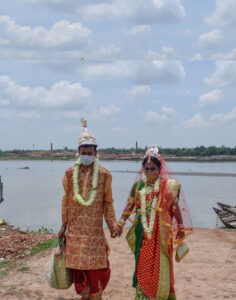 the troubles people have been suffering from and decided to distribute the food already ordered with a local caterer, among the needy persons in the town", said Amit.
"So well in advance we informed the guests about cancellation of the celebration apparently due to Covid situation and went on to materialise the revised plan" added Amit.
"I know that a day's delicacy offered by us will not solve their trouble, but we have done it sincerely from the deep of our hearts with limited capacity", said Amit's bride Moumita, who works as a teacher with a Kindergarten in Nakashipara.
But, what actually inspired them to change their mind? Speaking to NfN, Amit said, "A day before the wedding I went to the Guptipara ghat where I was pained to witness the plight of the ferry service workers due to suspension of the service by the state government. My father was also a ferry service worker and he also suffered a lot in such situations, which I personally experienced on a number of occasions. So I decided to offer the food to them at least for a day. I spoke to my wife and she also gave her nod, which helped me further to call off the celebration".
As a result, after completing the rituals at home the couple distributed the food packets containing Rice, Daal, Aloo Dum, Fish fry and sweets of seven different delicacies.
"We have done it for the special day only. But we will try to help people in this Covid situation in a sustainable way even if it is only a handful of needy people", said Moumita in an approval of the initiative her husband has taken.